Today's review is the longest and the most detailed compared to what I've done before.
Let me know if you like such detailed posts in the comments down below!
The Story
I had a very hard time with this foundation. The whole story starts from the moment when they just have been launched at Tarte.com. I used a quiz to find my "perfect match" and I've ordered Hydrating Foundation in Light Neutral and some other things the same day. When the package finally arrived I've realized that I picked a wrong shade: I also ordered Shape Tape concealer in the same shade and tried it first – appeared to be 1-2 shades lighter than I am. I didn't even try the foundation – I already new that I was lighter than I needed and didn't want to waste the product and returned it.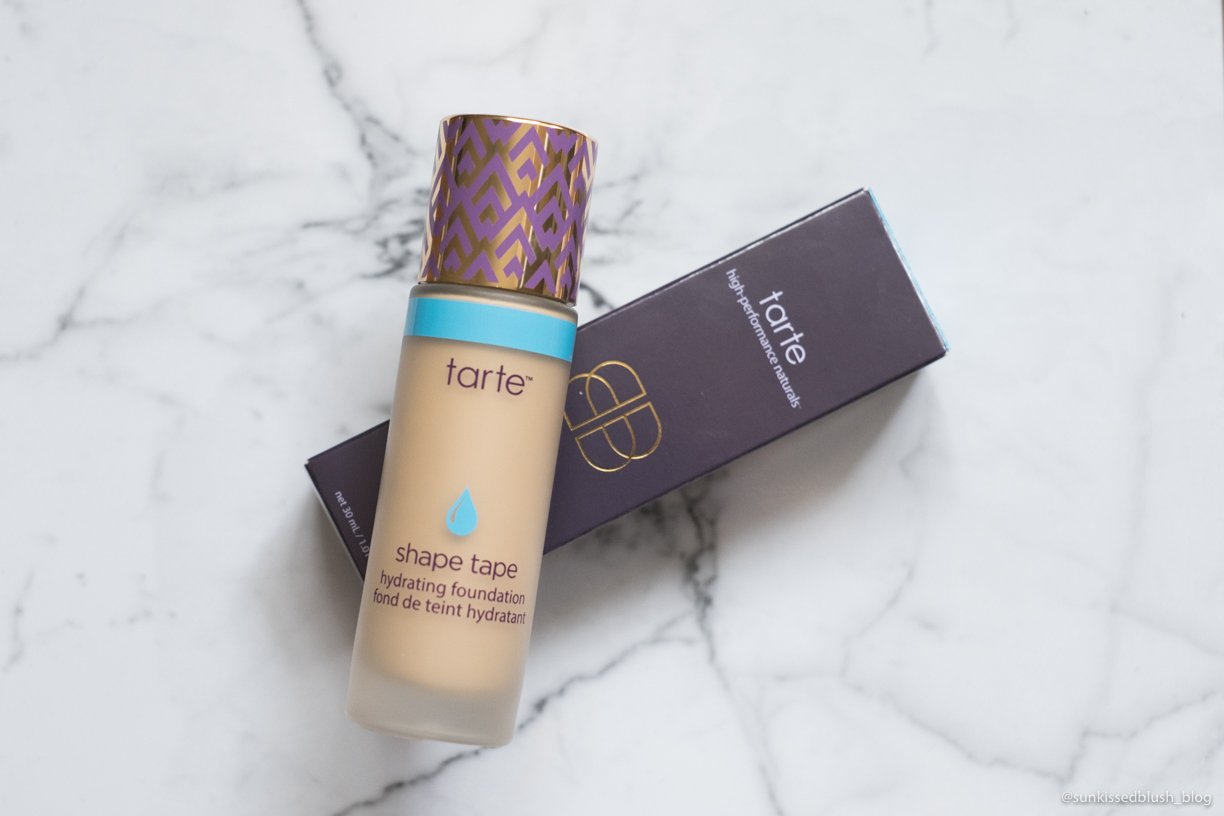 Then I waited till they will be available at Ulta to get the right shade. When it finally happened and I got to the store, the assistant showed me the stand with the foundations and I asked her to pick the right color to me. She picked the Light-Medium Sand. I asked if there were more neutral shades but she said Hydrating line don't have them only the Matte Foundations. I wanted the hydrating line so I decided to go with this color.
First Impression
When I came home and applied the product all over my face I saw a round yellow face looking at me in the mirror. It was horrible. I was upset with my purchase, but didn't take it off as I wanted to test the formula since I've already used it.
By the end of the day, it looked horrible as well: patches of foundation were missing on my cheeks around my nose although I was using my regular primer underneath and applied the foundation with the round brush.
I decided to read the reviews on this products to see if other people have the same issues. At that moment (finally!) I realized that there are much more shades for each type of the shape tape foundation. I was even more upset that the assistant in Ulta didn't tell me that I could get the right shade online if they didn't have it in store!
If you follow me on Twitter, you probably know how upset I was with this service. Nevertheless, I still decided to test-drive the formula one more time. This time with pictures doing my best to disregard the shade.
I've looked through the shade names today again and realized that Hydrating and Matte shade names don't match! This is what caused the confusion to the assistant: there are neutral shades but they are just called differently.
Tarte Cosmetics, but why so?
Final Test-Drive
Packaging
The foundation comes in a glass bottle. To open it you need to unscrew the lid and it pops with an applicator – the same that comes in their Shape Tape Concealers but in a bigger size. From one side, it is really convenient to apply the foundation straight on your face. From the other side, such applicator can easily breed bacteria inside of the bottle and cause breakouts to your skin.
The Shade Selection
Although there was a dispute about scarce selection for deep completions, I still think they have a really nice range of shades. Moreover, they promised to release 10 more shades for the people who's complexion shade is missing.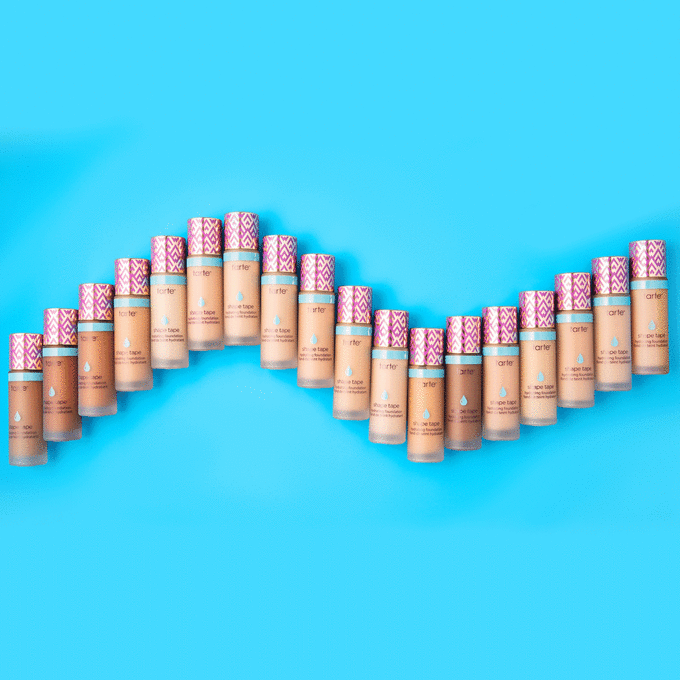 If you plan to buy it online, I would recommend testing the shades in store first. As I was told by Tarte Customer Service, Hydrating Foundation best matched with the Hybrid Gel/Rainforest of the Sea Water Foundation. If you have not used this product before you can try it at Sephora. Or go straight to Ulta, but make sure no one convinces you about lack of shades in any of the formulas.
One more tip: don't try to match the shade name of the concealer that you have to the new foundation, chances are that this idea might mislead you.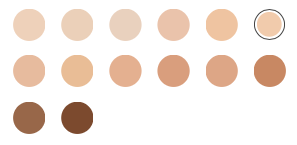 Formula Expectation
Here is the information from the brand about key ingredients:
biopolymer filling spheres: expanding spheres help smooth surface imperfections while promoting water retention & hydration
hyaluronic acid: naturally-occurring ingredient in the human body which delivers moisture, firmness & suppleness to skin
collagen: helps plump the appearance of fine lines & wrinkles
barley extract: helps restore the lipid barrier to smooth over fine lines & wrinkles
dermal filler: cross-linked hyaluronic acid that works overtime to help restore skin volume & smoothness
vitamin C: antioxidant free radical fighter that helps prevent premature signs of aging & brightens skin
Amazonian clay: nature's most perfect ingredient for better, longer, truer wear
Above is very promising, so I decided to test it on my skin. My skin is normal both in oil and hydration level and I prepared my skin with scrubs, masks and a stronger primer for the sake of this test.
Here is what I expect from this foundation :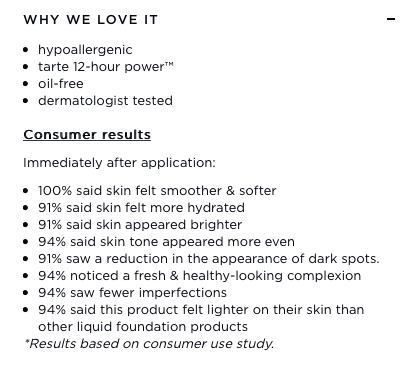 Formula Reality
This slideshow requires JavaScript.
The formula is thicker than I normally use. Despite the thickness, the coverage is light-to-medium. When I tried to build up the coverage, even by using a damp beauty blender to blend out the foundation all over my face, I still saw that it is a little patchy. I tried to smooth it out and filled the gaps with the foundation to ensure that all my face is covered.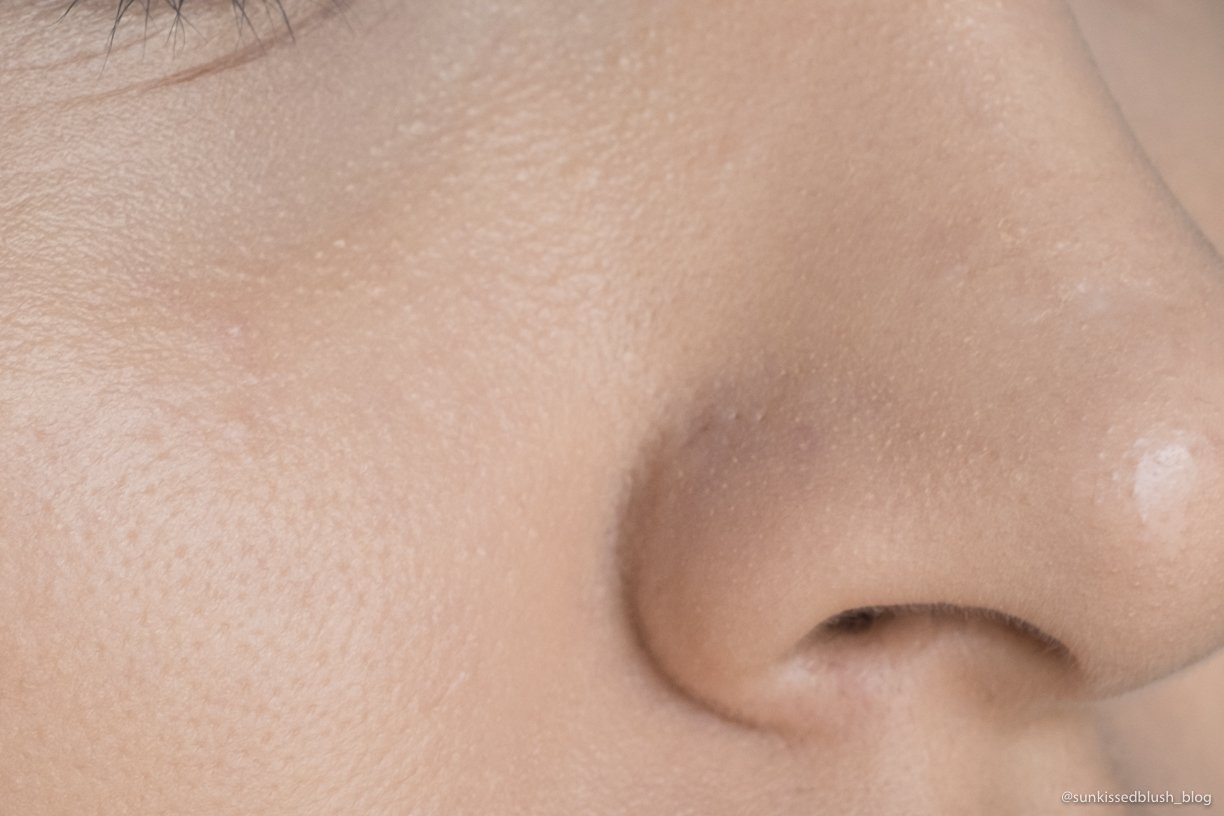 After that, I set my face with translucent powder – I do not use it that often, but today I'm doing everything to prove that my first impression is wrong. After I completed my regular day makeup, I applied the All-nighter Setting Spray all over my makeup.
When I look at myself in the mirror, I can't say that I really like it as I don't see the promised smoother and fresh & healthy-looking complexion. Neither, did I noticed it when I used it for the first time without the setting powder and setting spray. And don't be fooled by the pictures! Camera eats up the texture of the skin that is revealed by this foundation.
In the next few hours I've noticed that on the parts of my cheeks where i didn't use any bronzer or blush, the skin looked oily and pores look enlarged. Yes, foundation added luminosity to the skin, but huge pores is definitely not something I was aiming for. It also starts to come off slightly.
The oilier it became, the more I would feel it on my skin. And honestly, I don't remember the last time my skin was this oily.
If you can see the darker line around my nostril then you see how the foundation disappeared around my nose. The more I was keeping it on, the less foundation was on my nose. I used a blotting paper on my cheek at it removed the "healthy" shine. As I understand from this, the ingredients in foundation increased the oil production in my skin that from one side adds luminosity but it also melts the foundation from the other side.
The skin became patchy in that area and no longer lightweight – you can also see it on the photo above. By the way, the photo was taken before I used the blotting papers. I removed the whole makeup by the end of the 6th hour of wearing it.
My Verdict
Although my first and second impressions were not so good, I still wanted to give this foundation a chance. It somewhat performed better when I used tons of other products to keep it in place longer, but it definitely not what I was looking for.
Yes, it adds luminosity but it makes my skin produce more oil. I felt oily even on the next day and this doesn't add points to this foundation.
The formula is thick and quite hard to blend, even with a smooth primer underneath and a damp sponge. It also reveals the texture.
The coverage is too light and uneven for the thickness that we get and the shine that appears on my cheeks eats up the makeup and makes my pores look even larger.
It definitely won't stay for the 12h: only maybe if you keep reapplying the setting spray.
But really, why so much hassle for $40?
Yes, I agree that the formula and ingredients sounds very good, but feels like it didn't work for me that well. For this price I expected something better.
My experiment showed me that I need to search more for my perfect foundation and it's definitely not Shape Tape.
Have you tried this foundation? Let me know if you liked it or not!
foundation
tarte cosmetics