I fell in love with Saie Slip Tint Dewy Tinted Moisturizer after trying it for the first time a few years ago, when Saie had just launched at Sephora. As a Sephora Squad member at the time, I received a PR mailer with the entire SAIE Beauty line. Three years later, Slip Tint has become a staple in my routine.
Saie Slip Tint Formula
Saie Slip Tint Dewy Tinted Moisturizer is a tinted moisturizer that also provides sun protection with a sheer, dewy finish. The coverage is light but evens out skin tone very well while maintaining a smooth, glowing appearance. The texture of this tinted moisturizer is well-blended and feels whipped or mousse-like. It absorbs very fast into the skin, feels weightless, and is suitable for daily use. This moisturizer's clean and hydrating formula is ideal for those who want a natural-looking glow without the greasy feeling of typical sunscreens. My skin feels velvety after applying Saie Slip Tint on my face.
The formula comprises 100% non-nano mineral Zinc Oxide, which provides broad-spectrum SPF 35 protection to your skin against both UVA and UVB rays. Because of the fully mineral sunscreen formula, Slip Tint is suitable for sensitive skin.
Additionally, it contains Hyaluronic Acid that effectively attracts and retains moisture in your skin, leaving it hydrated for longer. Moreover, the formula is enriched with Licorice Root Extract that helps to enhance and refine the overall appearance of your skin by providing a brightening effect. Last but not least, Saie included Pansy Flower extract in the formula to combat free radicals and provide antioxidants.
Saie Slip Tint doesn't contain any added fragrance, and its smell reminds me of a vegetable oil that I used in my art classes because of the Argan oil in the formula. Unfortunately, there is no indication if Slip Tint is non-comedogenic or acne-safe. Even though I haven't had any issues with either, I would recommend exercising caution if you are concerned. Slip Tint is safe for sensitive skin and is dermatologist-tested.
Full list of Ingredients
I love the curated ingredient list, as many commonly used ingredients, such as preservatives, are replaced in Slip Tint with better alternatives. On the brand's website, you can fact-check each ingredient in the product. All you need to do is go to the product page and click on the list of ingredients.
Zinc Oxide (15%), Water, Coco-caprylate/caprate, Vitis Vinifera (Grape) Seed Oil, C15-19 Alkane, Isocetyl Stearoyl Stearate, Argania Spinosa Kernel Oil, Tocopheryl Acetate, Sodium Hyaluronate Crosspolymer, Jojoba Esters, Tribehenin, Beeswax, Glyceryl Stearate, Leuconostoc/radish Root Ferment Filtrate, Glycerin, Lactobacillus, Acacia Senegal Gum, Xanthan Gum, Viola Tricolor Extract (Pansy Flower), Bisabolol, Glycyrrhiza Glabra (Licorice) Root Extract, Sodium Hyaluronate, Aloe Barbadensis Leaf Extract, Cocos Nucifera (Coconut) Fruit Extract. May Contain: Titanium Dioxide, Iron Oxides, Mica.
Overall, the list of ingredients of Slip Tint looks good to me, with Water as a second ingredient, which means Slip Tint is water-based. It also contains vegetable-derived emollients, oils, and other naturally derived ingredients. To my surprise, it contains Lactobacillus – probiotics for your skin. Besides, Saie formulated Slip Tint with Beeswax, so the tinted moisturizer is not vegan; however, Slip Tint is gluten-free and cruelty-free.
Here are some details on the highlighted ingredients:
C15-19 Alkane is a vegetable-derived ingredient used to disperse mineral UV filters and replace silicons and mineral oils to provide emollience. Tocopheryl Acetate is a form of Vitamin E. Acacia Senegal Gum is an herb used in skin care products to improve texture and act as a thickening agent, emulsifier, or stabilizer. For the color part, Saie is using Titanium Dioxide and Iron oxide, both ECOCERT and derived from natural minerals. Unfortunately, Saie doesn't specify the exact color ingredients per shade.
In regards to Licorice Root, I avoided this brightening ingredient during pregnancy but felt safe to use Slip Tint while breastfeeding. I always recommend checking with your physician or OBGYN when choosing safe ingredients in your beauty products during pregnancy and breastfeeding.
Saie Slip Tint Shade Selection
What sets this tinted moisturizer apart from other tinted mineral sunscreen moisturizers is its adaptive confusion-free shades with a phenomenal skin match. Initially, Saie launched Skin Tint in nine shades only but later expanded to 14 different shades: five Light Shades, three Medium shades, and two shades per Medium Deep, Deep, and Rich skin tone range. By the way, Saie's official website also has a match finder quiz, which can be very helpful if shopping online.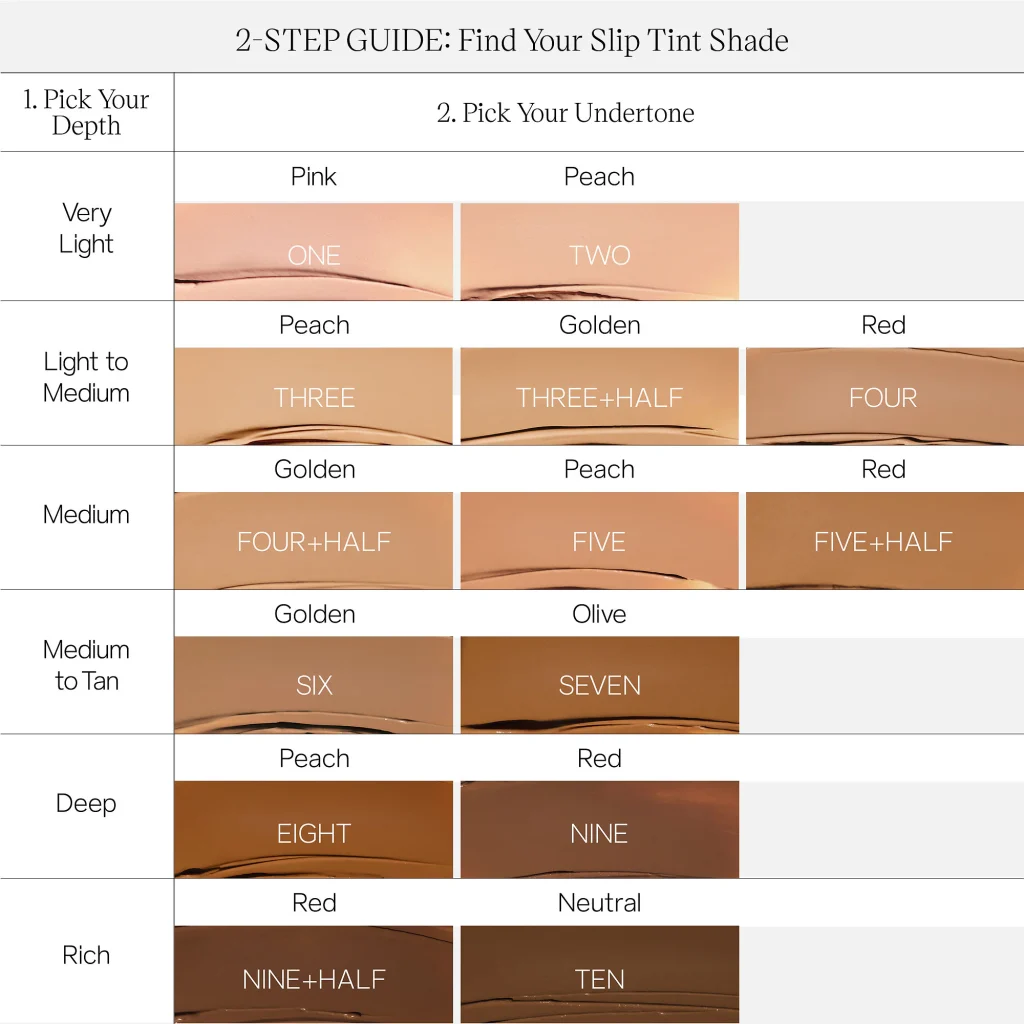 I was lucky to try shades Two and Three that came with my mailer. I have a neutral, slightly yellow skin tone, and I found that Three adapts better to my skin depth compared to the more pale Two shade. Here is Slip Tint compares to other foundations in my makeup kit.
Below is the comparison swatch between Slip Tint in shades Two and Three and Saie Sunvisor Radiant Moisturizing Face Sunscreen. While the ingredient list for Sunvisor is very similar to Slip Tint, Sunvisor has more sparkles and looks thinner in texture compared to more matte and opaque Slip Tint. I didn't notice any oxidation of the color while using Slip Tint.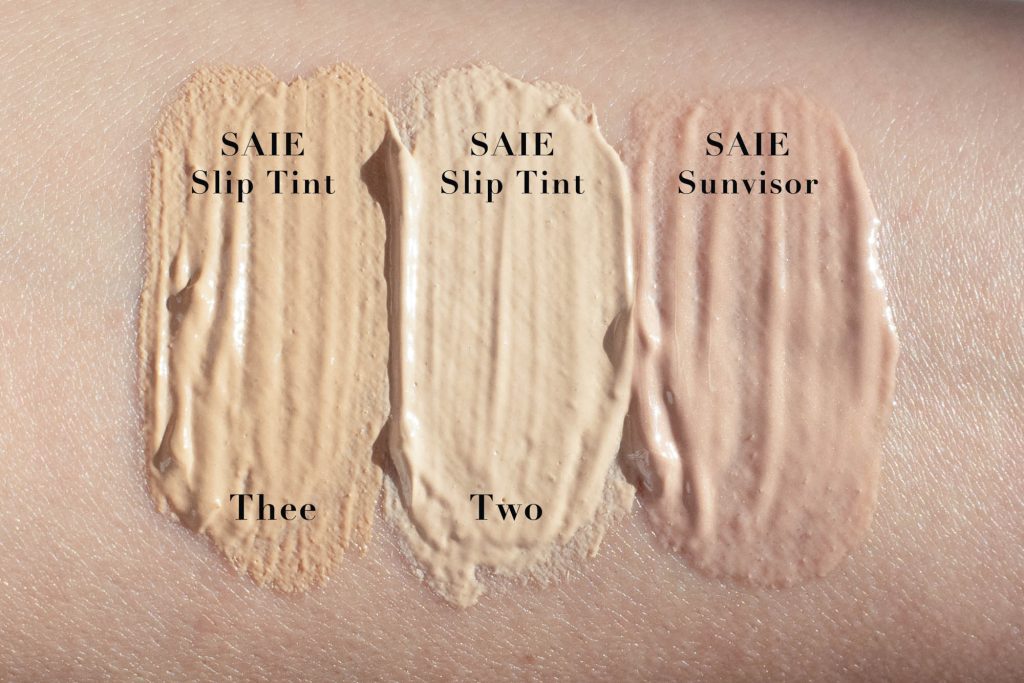 Packaging
I admire Saie's commitment to sustainability. All Saie products, including Slip Tint, are carbon-neutral, plastic-negative, and come in recyclable packaging.
The tube of Slip Tint is made of 100% Sugarcane Bioresin, a derivative of the Brazilian sugarcane plant that is both renewable and carbon-neutral. Once the tube runs empty, you can recycle it by placing it in your home recycling bin. Alternatively, you can recycle through Sephora's partnership with Pact Collective, which also recycles the pump and the cap. If you choose to recycle at home, make sure to cut the end tube and give it a rinse.

When the tube is more than half empty, because of its design, the pump may stop working. If that's the case, unscrew the pump to remove excess air, put the pump back, and try again.
How to Apply Saie Slip Tint
Slip Tint can be used over moisturizer for those with dry or dehydrated skin or instead of moisturizer for those with oily or combination skin. It works best when applied and blended out with fingers as it melts right into your skin. Usually, 1-2 pumps are enough to cover the whole face, and Slip Tint doesn't require shaking.
To remove Saie Slip Tint, I use an oil-based cleaning balm followed by a gel cleanser as a second step.
Final Thoughts
Slip Tint has become a staple in my daily routine. It's effortless to apply, giving me a natural and glowing complexion, while also providing enough color and sun protection for my face. The formula is clean and feels incredibly comfortable on my skin. After finishing my initial tube, I repurchased Slip Tint, which is a testament to how much I enjoy this product. With that being said, Slip Tint is Sun Kissed Blush Approved and I highly recommend this product.
What is your favorite product from Saie Beauty? Please let me know in the comments!
Clean Beauty
mineral sunscreen
saie beauty
Sun Kissed Blush Approved
tinted moisturizer