Kosas Revealer concealer has become one of the most viral concealers today, thanks to TikTok.
While both TikTok and Instagram are flooded with reviews from Influencers and celebrities, you might still wonder if this product is worth the hype. Well, my dear blusher, you are at the right place! In this blog post, you will find some swatches, and I will answer most of the product-related questions.
Formula of Kosas Revealer Concealer
When eye cream marries concealer, it gives birth to Kosas Revealer concealer.
This water-based formula is infused with Caffeine and Pink Algae to brighten and depuff undereye areas, as well as Arnica and Provitamin B5, also known as Pantenol, to soothe blemishes and redness. The concealer also contains Peptides and Hyaluronic acid to hydrate and plump the skin.
The concealer has a radiant finish and feels super creamy yet not greasy. Despite its name and texture, this creamy silicone-free formula is extremely lightweight and blends well into the skin and over and under the makeup like a second skin. Even though the formula is long lasting, it is not waterproof.
Kosas Revealer Concealer works for all skin types, including Normal, Dry, Combination, and Oily and it is safe for sensitive skin.
Kosas has conducted both consumer and clinical studies for this concealer. While the consumer study might not be the most reliable one, I'm pretty impressed with clinical study results that showed that 100% of participants had clinical improvement in the appearance of crow's feet, fine lines and wrinkles.
On top of that, Revealer Concealer is clinically, dermatologically, and allergy-tested. The product is clinically proven to be non-comedogenic and non-irritating, so it can be used for blemishes and acne. Finally, the formula is vegan, cruelty-free, and gluten-free. All Kosas products undergo at least three rounds of clinical and analytical testing at independent laboratories before they are available for purchase. I have sensitive skin, and I found it working for me really well.
Ingredients
Let's take a closer look into the list of ingredients.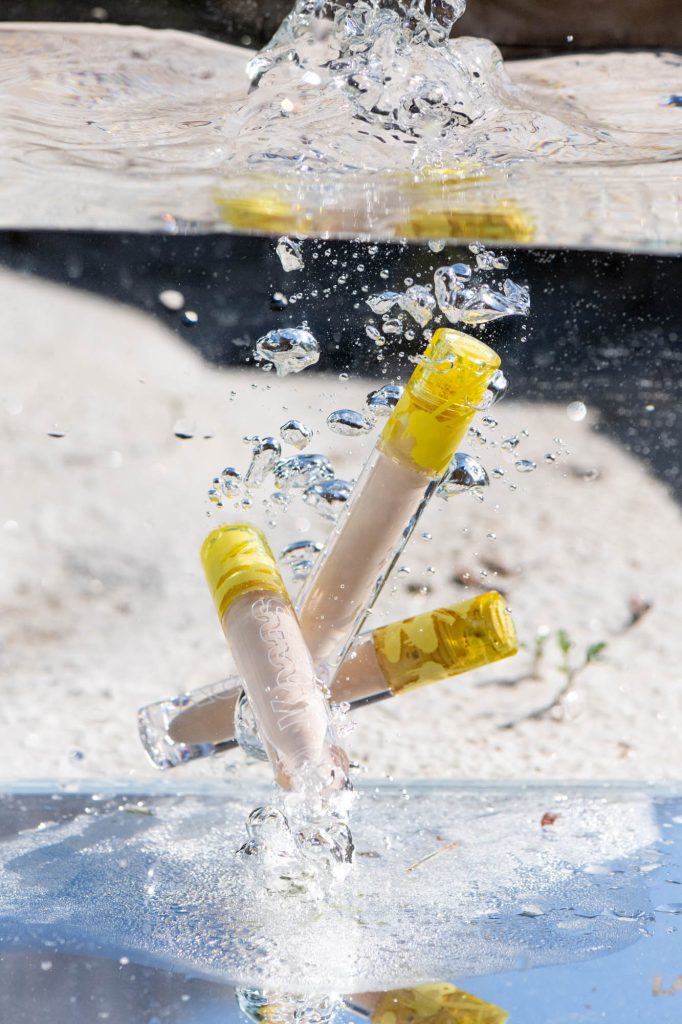 Aqua, Caprylic/Capric Triglyceride, Mica, Octyldodecanol, Ethylhexyl Olivate, Polyglyceryl-2 Dipolyhydroxystearate, Undecane, Glycerin, Polyhydroxystearic Acid, Tridecane, Polyglyceryl-3 Diisostearate, Galactoarabinan, Helianthus Annuus Seed Wax; Arnica Montana Flower Extract, Caffeine, Dunaliella Salina Extract, Foeniculum Vulgare Oil, Glyceryl Oleate, Helianthus Annuus Seed Oil, Lecithin, Maltodextrin, Palmitoyl Tripeptide-5, Panthenol, Rosmarinus Officinalis Extract, Sodium Hyaluronate, Squalane, Tocopherol, Potassium Sorbate, Sodium Benzoate, [+/ -: CI 77891, CI 77491, CI 77492, CI 77499]
As you can see, the ingredient list is pretty short and has water as the first ingredient, which means Revealer Concealer is water-based. Half of the list represents oils and naturally-derived extracts and doesn't contain silicones.
Mica, used in Revealer Concealer is 100% ethically sourced. Lecithin, which has a score of 2-4, in my opinion, doesn't pose any risk, as it is a concern when inhaled, and this product is not in powder or spray form.
Sodium Benzoate (1-3), on the other hand, is a preservative with a limit restriction. Considering its position in the list, this ingredient is not a concern for me either.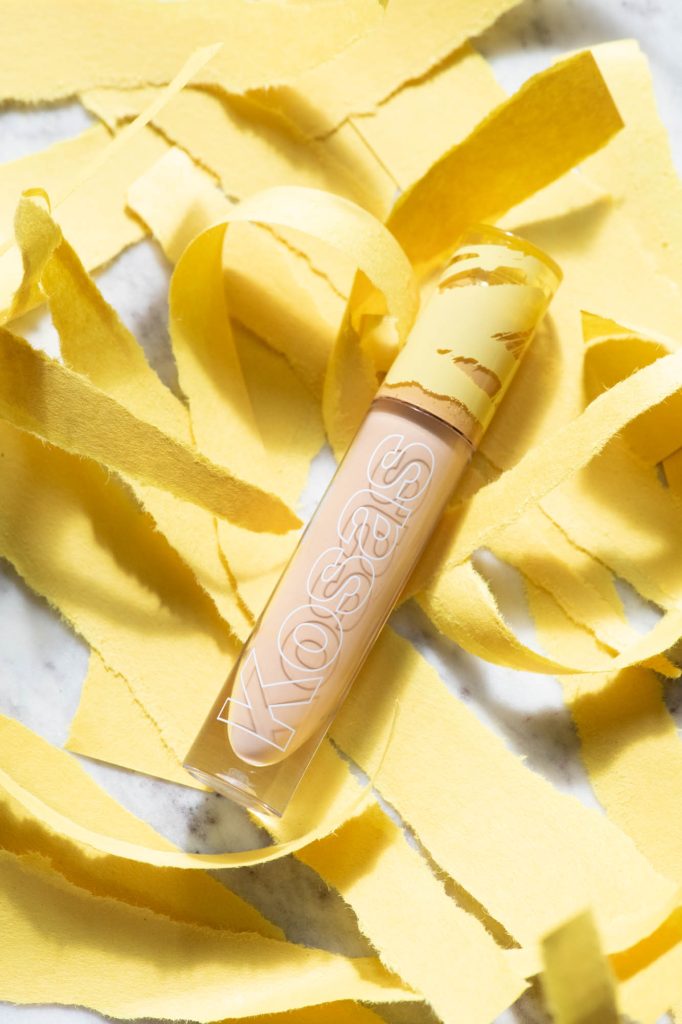 There has been some controversy with this concealer on social media. Since it doesn't contain commonly used preservatives, it is said to go bad faster than your regular conventional concealer. As you can see from the list of ingredients, the brand is still using preservatives and antimicrobial stabilizers to prevent the formula from growing yeast, mold, and pathogens during its shelf life and maintain its formula properties. Besides, before a product is put on the shelf, it must undergo strict preservative efficacy testing following the USP 51 protocol by an independent analytical laboratory.
The shelf-life of unopened Revealer Concealer is up to 2 years. Once opened, you need to use it within 9 months, as marked on the carton packaging. I have noticed that after the 6-month mark, the formula is getting thinner and doesn't last as well as when I've just started using it. I kept one tube of opened concealer for over 3 years and it had a sour, cheesy smell. If you smell any unpleasant odor, it is time to part with your favorite concealer. If Revealer Concealer changes in consistency, color, or smell within the POA (product after opening) period, Kosas would be happy to assist with replacing it for you.
Coverage
This creamy yet lightweight concealer has a buildable light to medium coverage. The formula neither creases much nor feels cakey when built to medium coverage.
Kosas Revealer concealer has a smooth, dewy finish and can be used under the eyes or as a spot treatment.
Shade Selection
Revealer concealer comes in 28 Shades in full size, and six of the most popular of them are available in size mini.
When I was pregnant with my daughter in 2020, I had a curated makeup collection that I was confident using. I was using Josie Maran concealer, the only Clean at Sephora concealer I liked, even though it had a scarce color range.
I tried Revealer Concealer only after my daughter was born. At that time, I was still very conservative about the ingredients in my beauty products. You can imagine my excitement about trying Kosas Revealer concealer with so many shades to select from.
Despite my photography background, online shade selection quizzes are hit or miss for me. Luckily, Kosas' website offers two ways for shade matching: through customer service (send a selfie to the team) and through online quizzes. Both options not only assist with concealer shade but also offer a matching foundation, setting powder, and an Illuminating Enhancer.
If you still want to swatch all the shades of Kosas Revealer Concealer at home, the brand offers Kosas Try Outs service where you get a sampler card with all the shades for a small fee – $8, that is credited towards your purchase at the brand's website.
Swatches
I relied on the Kosas PR team's assistance in shade selection, and they sent me three concealer shades to try: 02, 01C, and 2.5C. According to the Shade Matching Quiz (I selected Light and chose a third model), I got 1.5C as brightening concealer and 2.5C as my exact match. And guess what: 2.5C is indeed my perfect match!
Because of the peach undertones, 2.5C works as a corrector for dark circles and cancels my dark circles. I prefer using this concealer all over my face. For the lifting effect, it's better to go one shade lighter.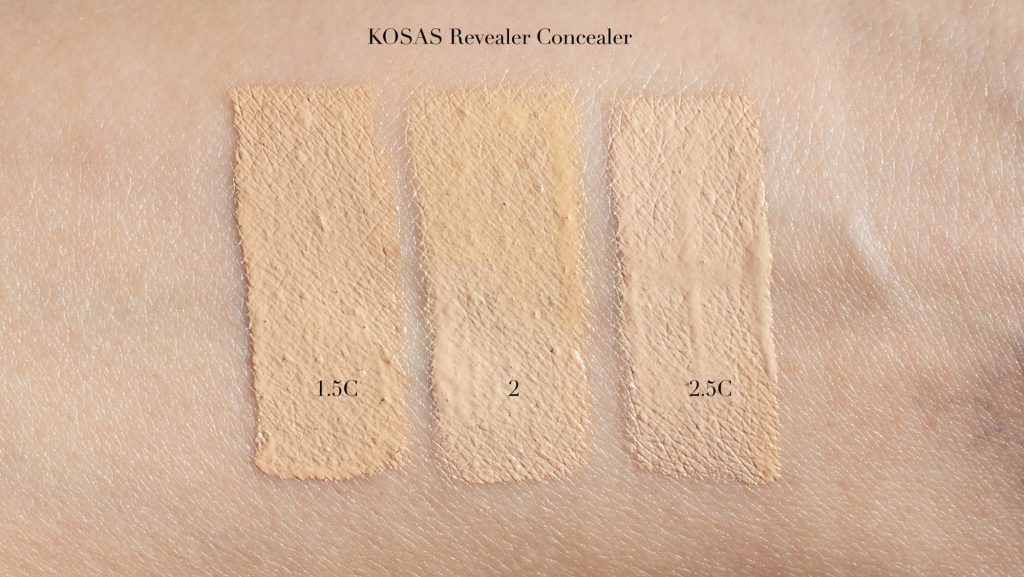 The Concealer oxidizes slightly when it sets. As you can see on the photo above, all three shades oxidize differently on my skin.
Kosas Revealer Concealer Packaging and Applicator
Kosas Revealer Concealer comes with a screw-on cap with a flexible doe foot applicator. The doe foot applicator reminds me of one in Makeup Forever and Josie Maran, however, it feels more flexible in Revealer Concealer. Overall, I love the design of the packaging, especially the yellow splash of color on the cap.
The only concern with the component is the product builds up in the cap if you don't store it upright. On top of that, I've noticed that cap may crack if you drop the concealer to the floor.
Kosas places a strong emphasis on sustainability, partnering with manufacturers who prioritize green initiatives and together working to improve the recyclability of their products.
How it Feels
Kosas Revealer Concealer blends effortlessly and feels weightless on the skin. A little goes a long way with this formula, so proper placement is the key to ensure you do not need to put too much product in the crease line.
I've been really impressed with Revealer Concealer, which reminds me of another favorite clean beauty product, Josie Maran concealer. The texture, coverage, and applicator are all very similar, but Revealer has a wider range of shades to choose from. I've actually gone through two bottles of this already, which is pretty rare for me with other concealers, and just bought a third one.
This concealer covers dark circles, redness, and discoloration on the skin well but still looks natural, like your second skin. Revealer Concealer is packed with skincare ingredients, and I am skipping eye cream when using this concealer.
Even though all concealers tend to crease on me, I believe Revealer Concealer creases the least. It works great alone or with a setting powder – I prefer Kosas Cloud in the shade Airy, as it keeps the glow of the concealer underneath while ensuring the formula stays in place longer.
How to Use Revealer Concealer
Because of its creamy, versatile and buildable formula, you can apply the concealer doe foot applicator and blend with fingers, or you can use tools, such as sponges and brushes. I prefer to pack the product for spots and use my fingers or brush to blend out the edges. I also use fingertips to blend the concealer under eye area. You can apply this concealer under or over foundation and it won't mess you look up.
Here is the tutorial on how I use Revealer Concealer to achieve a refreshed, awake look.
The Verdict
Kosas is one of my favorite clean brands for a valid reason: they make impactful makeup products with clean skin-loving ingredients.
The Revealer concealer feels very comfortable on the skin, blends into bare skin nicely, and works under/over makeup too. Medium coverage is just enough for me to cover blemishes and under-eye circles. A little goes a long way and considering that I repurchased a product after getting it from the brand speaks volumes. Kosas Revealer Concealer is Sun Kissed Blush Approved and I highly recommend this product.
Clean Beauty
concealer
kosas