What happened in Sephoria stays in Sephoria

said no one ever.
As the euphoria from Sephoria is slowly fading, it's time to share all the details of the event and reveal everything that I brought back home with me.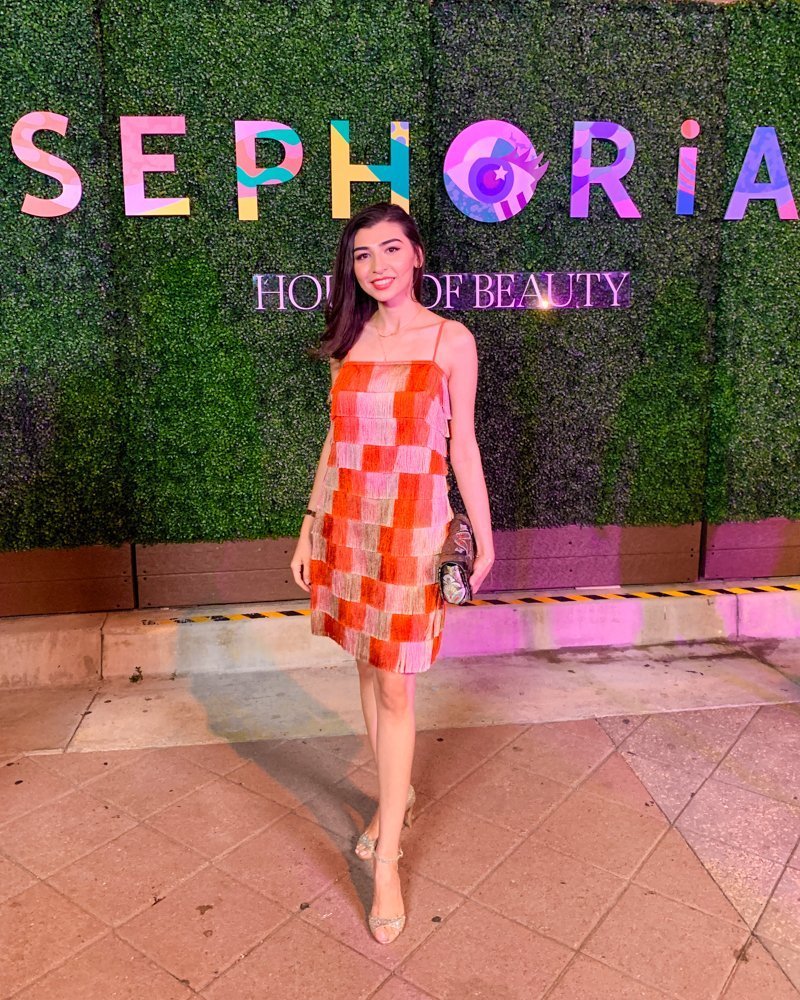 While at the event, I've been sharing the stories in real-time, starting from the VIP pre-party a night before the event and during both days of Sephoria House of Beauty Event. No surprise, my DM was exploding, as hundreds of people were watching my stories and sharing their excitement with me! Even though I was trying to post as much as I could right away and not miss anything IRL at the same time, I decided to dedicate a special post about this event without sparing any details!
Speaking of my DMs, I've got a lot of questions about Sephoria as an event, so before we dive into the details of my experience, let me explain what Sephoria House of Beauty event is all about.
What is Sephoria House of Beauty?
Sephoria House of Beauty is an annual two-day all things beauty event organized by Sephora. During the event, attendees can experience beauty services, attend masterclasses presented by industry-leading professionals and interact with brands curated by Sephora. If I had to describe Sephoria with just three words, I'd quote one of the Sephora Beauty Insider Community members calling this event a "beauty junkie Disneyland". Sephoria is a real expression of Sephora's "We belong to something beautiful" manifesto through a spectacular fuse of beauty brand exhibition and a festival, both of which are dedicated to the beauty in all its forms.
Since Sephoria's debut last year in LA, Sephora was working hard to make the attendee's experience even better this year. And indeed, Sephora went far beyond my expectation of what the beauty event might be.
Sephoria 2019
Sephoria 2019 took place on September 7th and 8th at The Shrine Auditorium and Expo Hall in Los Angeles. The two-story space of the expo center was re-decorated and divided into sections, called "rooms", making up 16 rooms in total, hosting over 60 brands. These brands were grouped together by rooms with a specific theme and color-coded "neighborhoods". Each brand booth looked like a small house of wonders, and neither looked a–like.
Sephoria House of Beauty Year Two event attracted over 6000 visitors over the weekend. Each weekend day included two separate sessions, making up four sessions in total. For every session, you could choose between General Admission (GA) or VIP ticket, for $80 and $350 respectfully.
As I was flying in from Houston, TX, I wanted to make the most of my weekend getaway and get as much as I can to share with you later. With this in mind, I attended three out of four sessions ( two GA and 1 VIP) and I was also invited to the VIP party the night before.
Why Sephoria House of Beauty is so unique
Because of the overwhelming emotions, it is really hard to describe my Sephoria experience in just one word. For just one ticket price you get access to unlimited samples, swag bag for over $250 worth (and $900 for VIP), free services, access to masterclasses, personalized products, and mesmerizing unique experience. Taking everything into account, I can honestly declare that this event proudly deserves my #sunkissedblush_approved badge, and here is why.
Prepare to be amazed
Being the one-of-a-kind beauty event, Sephoria hosted over 60 brands, with each and every one of them trying to make the experience with their brand extra special for their guests. Most of the brand booths were quite interactive, with YOU (the guest) in the focus.
For instance, Maison Margiela pulled off the real "Chamber of Secrets" theme with their "Whispers in the Library" fragrance, hiding a secret room behind a bookcase within their small booth. At YSL booth you could manifest your freedom with a golden sticky note; Kaja and Nudestix, on the other hand, brought in claw cranes with full-size products as a prize; Charlotte Tilbury recreated a whole Pillow Talk all-pink commercial set-up and Fenty beauty had a real spinning merry-go-round.
YSL
Charlotte Tilbury
Beautyblender
Innisfree
La Mer
La Mer, as another great example, designed their booth as a coral reef with an all-in-sequins wall on one side and a huge La Mer moisturizers-only shelfie on the other. The shelf with creme de Lamer products was so big, I could barely fit it all in a single frame! I literally looked like a paradise to me.
Lawless
Lawless, on the other hand, invited an Official Lipstick Reader that tells you about your future based on your lip stain that you create using Lawless new lip glosses.
Farmacy Beauty
Farmacy Beauty used their newly incorporate ingredient, an acerola cherry, as a source of inspiration. This was one of the few brands that is also giving back: for every Very Cherry Bright 15% Clean Vitamin C serum sold, Farmacy Beauty is donating $1 to Fundação Lar Feliz (Happy Home Foundation), a children's foundation in Northeast Brazil, while for every picture posted with the #CherryBrightFuture the brand is donating an additional $10 for each post (up to $10,000)!
Briogeo
Briogeo were offering real honey-tasting, the exact honey they were using for the new limited-edition "Don't Despair. Repair" Hair Mask.
And this is not the end. I can go on and on speaking of NARS swings, Too Faced real-size sleighs, Huda Beauty golden bathtub with confetti…And all of that leads to the reason number 2!
You'll have a lot of cool pictures if yourself
As I said, the whole event is about YOU (the attendee). All of the booths had an additional light stands, while some brands even hired photographers for their booth! The best part is that the brand reps know exactly how to take perfect pictures and slow-motion videos as if it was one of the job skill-set requirements. The last time I had this much pictures of me is probably on my wedding day.
Moreover, some brands had a special photo booth inside their own booth, equipped with additional lights and cameras to create pictures, videos, and boomerangs. If you have ever been dreaming of walking the catwalk or being featured in Tom Ford fragrance commercial, you could do it right at Sephoria.
Besides the brand booths, there were a lot of cute colorful picture-worthy spots, located all over the Shrine Auditorium Hall. Overall, I can say that Sephoria is the most Instagrammable event I've ever been to in my life.
Candy Bar
"We belong to Something Beautiful"
To celebrate all shades of beauty, Sephora was also creating a mural compiled of tiny photographs that the attendees and guests posted online on IG and Twitter using hashtags #Sephoria and #SephoraBelong during the event. The best part, is that once they put your photo on a wall, you could also get a small print for yourself as a souvenir.
Meet the brands reps, founders and influencers
Another important reason to visit Sephoria is to meet the brand reps and get more information about the products, as well as the brand's philosophy and mission. Apart from that, some brand founders were also joining the Sephoria fest for Meet and Greet. For sure, this is one of my favorite experiences, as you can meet those masterminds behind your favorite formulas in person, talk to them directly and take a photo together.
At these sessions, I had a chance to talk to Rea Ann Silva about the beautyblender micro.minis, tell Briogeo founder Nancy Twine how "Don't Despair. Repair!" hair cap system perfects my hair, discuss the beautiful Sunkissed shade of Nudestix Nudies Bronze color stix with Taylor Frankel, thank Marianna Hewitt and Lauren Gores for Summer Fridays Jetlag mask that was literally saving my skin every single night at LA, and chat with Annie Lawless about how picture-perfect the Lawless foundation paired with Seal The Deal setting powder make me feel and look without any compromises.
During the VIP party, I had a chance to see and talk to Vicky Tsai again and we also took some fun pictures! Victoria is one of those people who will make you feel extremely important and she will always find the right kind words to remind you how special you are. She also invited me to her masterclass and was happy to attend it.
Attend Sephoria Masterclasses
At the Sephoria event, you could also learn more about skincare regime, makeup application and beyond from the beauty icons in their exclusive masterclasses. Since the number of seats for each class is limited, it is highly recommended to reserve a seat beforehand when registering your tickets. Nevertheless, if you had problems with registration or forgot to do it on time, there were also walk-in seats available. As always at Sephora, everyone is welcome!
Masterclass Speakers
As mentioned earlier, masterclasses mostly covered beauty topics on skincare, makeup and hair. To mention a few, Natasha Denona was doing a beautiful eyeshadow look using her new limited-edition 26-pan Metropolis palette, Vicky Tsai shared her self-care skincare rituals, explaining them step by step using Tatcha products, and Sarah Lee & Christine Chang from Glow Recipe dissected K-beauty regimen to get the trending glass skin look. In addition to above, other masterclasses were offered by Angel Merino (Artist Couture), Nikkie de Jager ( Nikkie Tutorial for Marc Jacobs), Allie Webb (Dry Bar), Sophia Amoruso (Girlboss), Dr. Barbara Stum, Kristie Streicher (Hourglass), Patrick Ta, Amanda Chantal Bacon (Moon Juice), Nancy Twine (Briogeo) and Robert Rosenheck & Cindy Capobianco (The Lord Jones).
For VIP ticket holders, there was an addition meet and greet sessions with the speaker after the masterclass.
Even though masterclasses were one of the main reasons I wanted to attend Sephoria, I could only make it to Vicky Tsai masterclass. The motive behind it is the limited amount of time, long lines and high heels. Despite being recommended to wear "comfortable" shoes by kind people in the community, I couldn't give up on my Jimmy Choo's stilettos, which made it extremely hard for my logistics! Within the time limit of each session (4 hours for GA, and an extra hour for VIP) you have to choose what you realistically can do within the given time frame and long queues.
To my delight, Sephora was filming above mentioned masterclasses, and you can also watch them on their Youtube Channel:
Get the new launches before they hit the stores
Another great reason to visit Sephoria is to get your hands on the new launches before they will be available for sale everywhere else! With that being said, you could get Farmacy's new Very Cherry Clean Makeup Meltaway Cleansing Balm, Tatcha's Silk Peony Melting Eye Cream, OUAI Super Dry Shampoo, Metropolis eyeshadow palette from Natasha Denova, Charlotte Tilbury Pillow Talk Palette of Pop eyeshadow palette, Urban Decay Honey eyeshadow palette, Briogeo limited edition honey-infused "Don't Despair. Repair!" hair mask and many more.
While the big beauty-junkie in me wanted to get all of these products before the launch day, another more pragmatic part of me reminded of the expected baggage overweight, so I had to be mindful about the overcharge that I'd definitely going to pay (and actually paid) for my swag bags and samples.
Sephoria Swag Bag, Samples and Treats
Regardless of the ticket that you have, once you enter the Sephoria premises you are given a big Sephora black and white striped shopping bag to collect the endless number of samples and treats. While VIP ticket holders also get a Sephora gift card and some extras beauty products in that bag, there is absolutely no difference in what type of ticket you have: samples are accessible to everyone and everyone was equal in the sample game.
The sample collection process felt more like hunting, and most of the time, you had to engage with the brand to "earn" it. For sure, they would give it to you anyways, but the brands were trying to make an interesting experience out of it, which was really appreciated. Brands in the Glam Room, on the other hand, encouraged you to play the claw machine or spinners to actually get your prize! I won sunglasses at Kaja, but couldn't win anything at Nudestix – lost to the claw crane three times in a row!
Once your time is up and the sessions are about to finish (they ask everyone to leave as they are restocking for the next session), they take away your fancy bracelet ticket and give you the reusable swag bag. For VIPs swag bag is worth over $900, for GA it is over $250.
VIP Swag Bag $900 worth
GA Swab Bag $250 worth
Just for the record, I brought home over 15 pounds of "souvenirs". Even though I planned ahead and checked a big suitcase on my flight to LA, I still had to pay for the overweight. Oh well!
Personalized Services
As I already mentioned, I was mindful of my suitcase weight and decided not to purchase the new launches, but rather order them online when I get home. Nevertheless, I ended up purchasing something that won't be available until the next Sephoria event – the personalized lipsticks in the Lip Lounge Room.
Sephora Collection (SC) was offering you a Lipstories lipstick with your picture on the cap, while YSL was engraving your name with emojis on the lipstick of your choice. The best part, all done right away in front of you! I knew I would regret not trying it, so I got myself both! SC lipstick was only $8, while I had to splurge for YSL lipstick, which cost me $47 per lipstick with engraving, a limited-edition cap and a leather case.
In addition to SC and YSL, Pat Mcgrath Labs was also offering a custom set of three lipstick minis of your choice, packed in front of you in this fancy sealed package filled with gold sequins. Even though I genuinely love Pat Mcgrath Labs lipsticks, I decided to skip on them this time, as I had a bad experience with the mini lipsticks before.
Foundation Closet, as another room at Sephoria, offered a free service of finding a perfect shade from various brands, including Milk, Charlotte Tilbury, Beautyblender, Fenty, SC, and MUFE. I wanted to try it as well during Session 3, but my tired feet refused to climb the mezzanine and stand in the line.
Beauty Services
Above everything else that was already mentioned here, you could also get some pampering done right at Sephoria. Not to mention, that all the fees for the services are already included in the ticket price! Same as with masterclasses, it is advised to book an appointment, however, walk-ins were also accommodated in between.
In particular, you could get your hair done at Amika, Drybar, Living Proof or Dyson stations, get facial at Perk, Brows on point at Benefit Brow Bar, Lash Application at Sephora Collection, quick touchup and makeovers, and even a 10-minute session with Dr. Denis Gross!
I was lucky to get a walk-in session with Dyson, and I tried the Airwrap Styler for the first time in my life. Dyson is one of my favorite brands, from vacuums to air purifiers and a hairdryer, and Airwrap didn't disappoint at all! I like that it measures the temperature of your lock multiple times, has a cooling setting and can be used on damp hair! *puts it in wishlist*
Sephora Beauty Insiders Community (BIC)
Even though I'm a newbie in the community (or how Sephora BIC calls it "rookie"), I felt very welcomed by all the community members who came to Sephoria, as well as the Sephora Community Team members and even Beauty Directors, speaking of which, I finally had a chance to meet Jeffrey English!
Jeffrey is such a kind, inspiring and open-hearted human-being! Within just a few minutes of our conversation, I felt like I'm a part of the family that Sephora Beauty Insider Community actually is.
Sephora Beauty Insider Community members are the people with different backgrounds but united for one love for beauty! We had a lot of fun hanging out together, taking pictures and getting to know each other at the community meet up arranged by Sephora. For me, meeting like-minded people is perhaps is one of the most valuable parts of the whole experience.
Since the community is so important for Sephora, Sephoria also hosted BEAUTY INSIDER COMMUNITY CAFÉ, where you could join BIC for meet-ups, photo ops, and more.
Finally, is Sephoria event worth the hype?
Absolutely! Even though Sephoria has just happened, and I'm already looking forward to the next year! Sephoria is a pure celebration of beauty, so If you love taking care of your skin and playing with make-up, Sephoria would be the perfect playground for you. This is the first #sunkissedblush_approved event and I believe it is worth every dollar and second of your time spent there.
What is your favorite moment from Sephoria 2019? Let me know in the comments down below!
sephora