In one of my previous posts, I've shared a new exciting collaboration between MAC Cosmetics and Puma in celebration of Puma Suede shoes turning 50!
The recently launched collection features three Puma classic suedes in the iconic shades of MAC Cosmetics lipsticks. Moreover, now it's finally the time when you can match your lipstick to your shoes!
Muted Clay shade matches the sheer lipstick in Creme D'Nude, Fiery Red represents iconic matte Lady Danger and the Port Royal is the burgundy shade that serves as a pairing for the matte lipstick in Sin.

For me, it was so hard to decide on the color for shoes because all of these three shades are so beautiful and trending! Since I can't have all three ( which I would probably end up doing if I had more cash and a bigger closet), Â I picked the pair in Muted Clay.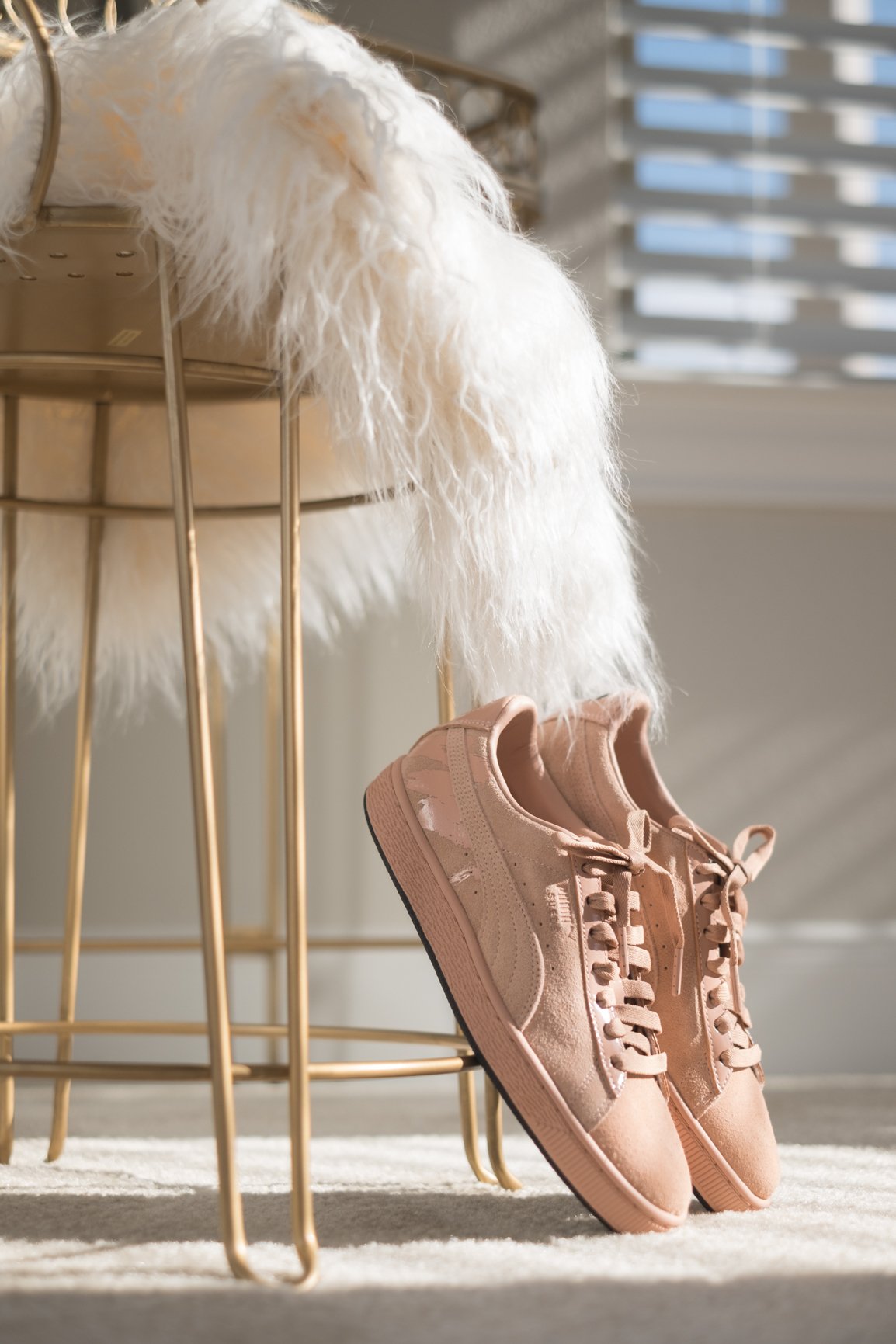 Unfortunately, the matching lipstick (Creme D' Nude), is not my shade – personally, I don't like pale lipsticks, so I'm skipping on the matching pictures here. However, the color of these shoes is so flattering, that this is exactly what has been missing from my wardrobe.
First of all, I need to mention that the sneakers are comfortable and true to size! I'm wearing exactly my 7.5.
The upper part of the shoes is leather (suede) with textile lining and rubber sole. You can find Puma and MAC Cosmetics logos on the shoe tong and all over the insole.
The sneakers also feature Puma's trademark  – lateral formstrip and laces in the same perfectly matching shade. The last makes the shoes look pretty solid so that you're not restricted in adding other colors to your look.
My favorite element in these shoes is the tonal glossy makeup smear marking on the heel – it adds a very stylish touch to them.
This beautiful peachy beige shade will go perfectly together with white, cream, light blue, rose gold, sand and many more! It's the lightest and most muted shade in the collection and is perfect for summer. I like this shade for its versatility that you get for matching with other colors and textures.
Since it's already a hurricane season, I'd need to add protection to my suedes so that no rain can cause problems whenever I decide to wear them.
These shoes are already sold out at puma.com, but you still can find them at Nordstrom. The retail price is $85.
By the way, at Puma's official website you can also find other collaborations related to Puma Suede 50th Anniversary.
How do you like this shoes? What shade do you like the most? Let me know in the comments down below!
mac cosmetics
shoes
sun kissed blush