The Dyson Supersonic Hair Dryer is engineered to protect hair from extreme heat damage, with the fastest drying+ and controlled styling to help increase smoothness by 75%, increase shine by up to 132% and decrease frizz and flyaways by up to 61%.*

Dyson. *vs. naturally dried hair. Results may vary by hair type.
From the very first day of Dyson Supersonic Hair Dryer release, I was questioning myself: do I really need such an expensive blow dryer?
From Dream to Reality
I clearly remember the day back in 2016 when I entered the Dyson store on Oxford Street in London, the UK to see this etherial Dyson Supersonic hair dryer that was just launched. My first impression was filled with excitement and even fear of the unknown as I was exploring the displayed tool. It felt like I'm in one of those Tesla showrooms, which obviously appeared later on, but it was giving me the same thrill. However, the price tag of £300 ($399) was telling me that it's probably not the right time for me to own this cosmic, luxury beauty tool.
Fast forward few years, I'm in the US, married, running Sun Kissed Blush and still watching all the tutorials and reviews about this sophisticated luxury hair tool. From time to time, I keep playing with displayed Dyson Supersonic blow dryer every time I see it in stores and watching it being completely sold out from now and then during seasonal sales, and yet hesitating to splurge.
The struggle was real. With so many different brands on the market, that, in particular, specializes only in hair tools, it was really hard to justify a purchase. Moreover, after I moved to the US, I had to replace all the hair tools that I had because of the difference in electricity in Europe and the US. After comparing different models, I got myself Babyliss Nano Titanium Dryer which checked all the hairdryer criteria boxes for me and with the price tag under $100.
I didn't have any problems with my hairdryer, because it was doing the job pretty well. Nevertheless, I believe my husband knew my secret passion for this luxury hair tool, and last Valentine's day, he decided to take an initiative and got me my dream hairdryer in Iron/Red.
Dyson Supersonic First Impression
Re-engineered balance
To start with, the design of the Dyson Supersonic is spectacular. From the sleek lines, 9-foot cord to magnetic attachments, it feels completely different when you hold it. The 1.8 lbs of weight are distributed and rebalanced in a different way, by turning convention on hairdryers' head and putting the motor in the handle. With the weight being one of the most important criteria in picking the blowdryer for myself, Dyson Supersonic weights the same as my old Babyliss hairdryer (which is considered lightweight) but is more convenient to hold.
While the specs indicate Dyson to be less powerful than my Babyliss (1600w vs 2000w), I didn't feel much difference when used on the highest speed.
But how did it feel after first use?
To be completely honest, I wasn't really impressed after the first few times of use. It felt like a good, nicely built tool to have, but I wasn't really amazed, and I wasn't sure if this is something I can recommend to my readers as a must-have blow dryer… all until the moment I had to switch back to my old friend Babyliss.
My Dyson Supersonic came with a tiny manufacturer defect and after contacting Dyson they were happy to replace the tool for me. It took around a week to get a replacement after shipping my tool to them, so we had to use the Babyliss. And oh boy, this is when we (both I and my husband) noticed the difference.
Don't get me wrong: Babyliss is a very good hairdryer, that I loved a lot while using it. However, there is no doubt left that Dyson beats it in performance.
Here is what makes Dyson Supersonic hair dryer better.
Cutting hair drying time in half
First of all, I noticed how much longer it used to take me to dry my hair before Dyson Supersonic. I am blessed with a fine in texture, dense hair, so after towel drying with my favorite Aquis Waffle Hair Towel, it takes me around 10-15 minutes to fully blow dry my hair with Dyson. With my old hairdryer, it took me 20-30 minutes to get the same result.
The increased drying speed is explained by the small, and yet powerful Dyson V9 digital motor combined with Air Multiplier technology. This produces a high-velocity jet of controlled air, for the fastest drying and precision styling.
Noise level
I never paid attention to how noisy a regular hairdryer can be. Dyson is definitely quieter: technically speaking, Dyson Supersonic motor is "acoustically tuned to produce one inaudible frequency." Applying this to real life, I can watch a movie while I dry my hair in the living room (sometimes I do) and no one seems annoyed because of noise. I won't call it completely quite but it is definitely less noisy.
Hair quality after drying
Dyson Supersonic is said to have an extreme heat damage control, which is explained by an intelligent built-in technology that "measures the air temperature over 40 times a second, to prevent extreme heat damage." At this rate, you won't really notice a drop in temperature or speed while you are drying your hair, but your hair will speak for itself: it is definitely shinier and smoother.
Exceptional ionic technology
While Babyliss also uses ionic technology to reduce the static in the air and you can really see a difference compared to cheaper alternatives, you can barely compare those results to Dyson Supersonic. After using Dyson Supersonic for several times in a row and going back to Babyliss, I didn't realize how much frizz and flyaways my hair has after blow-drying. The smooth, frizz-free effect is also another great feature of this luxury hair tool.
And I wasn't the one to notice these differences: my husband also noticed how easier it is for him to style his short haircut in a direction he wants and how less messy the hair looks after using Supersonic hairdryer and how fast it actually happens.
More on the specs of this luxury blow dryer
Dyson Supersonic was designed to work with all hair types, from Straight to Wavy, Curly, and Coily, and all hair textures: Fine, Medium, and Thick.
Styling attachments
Each Dyson Supersonic hair dryer comes with three different magnetic attachments designed to style different hair types. Since they are magnetic, you can easily fit and rotate it as you like. Babyliss plastic nozzle used to annoy me a lot with popping off sometimes, so having an attachment that fits firmly on your tool is really convenient and safe.
I highly recommend using an attachment while blowdrying your hair. I've seen a lot of negative reviews from people stating that the airflow goes in all directions, and from my personal experience, this happens only if you don't use a nozzle.
– Styling concentrator: The wide thin design of the styling concentrator creates a high-velocity blade of air that's perfect for styling.
– Smoothing nozzle: Dries hair with smooth, controlled airflow, helping to create a smooth, natural finish.
– Diffuser: Engineered to disperse air evenly around your curls, and simulate natural drying, helping to reduce frizz and define curls and waves. Long prongs allow you to style hair with control and reach deep into the hair.
Recently, Dyson released two more Supersonic attachments: Wide-tooth comb and Gentle air, however, they are sold separately, for $39.99 each. The Wide-Tooth Comb attachment is built to shape and lengthen textured hair as it dries, while the Gentle Air attachment was engineered with sensitive scalps and fine hair in mind. It diffuses the air for gentle and cooler airflow.
Almost all Dyson Supersonic attachments are available in Purple, Iron, and Black shades.

What I especially love about the attachments, is that even with at the highest heat setting, the surface of the attachments stays cool, thanks to the Heat Shield Technology.
Speaking of the heat control, here are the key control buttons on the hairdryer.
Key Controls
Like many other good hairdryers, Dyson Supersonic has precise speed and heat settings for different needs.
3 precise speed settings
High – for fast drying and styling
Medium – for regular drying
Low – for diffusing
4 precise heat settings
212°F – fast drying and styling
176°F – regular drying
140°F – cooler drying and diffusing
82°F – constant cold
Cold shot
82°F cold shot, to set your hair after styling
I especially like that the Dyson has a constant cold setting so that I don't have to keep my finger on the button for a long period of time. Also, since most of the buttons are on the head, it is hard to accidentally change the settings.
Removable filter
Dyson knows best how to make the removable filters. The twistable filter is attached at the bottom of the handle and is easy to clean. I prefer this filter to the traditional cap filter at the head that used to suck my hair inside if they get too close to the filter.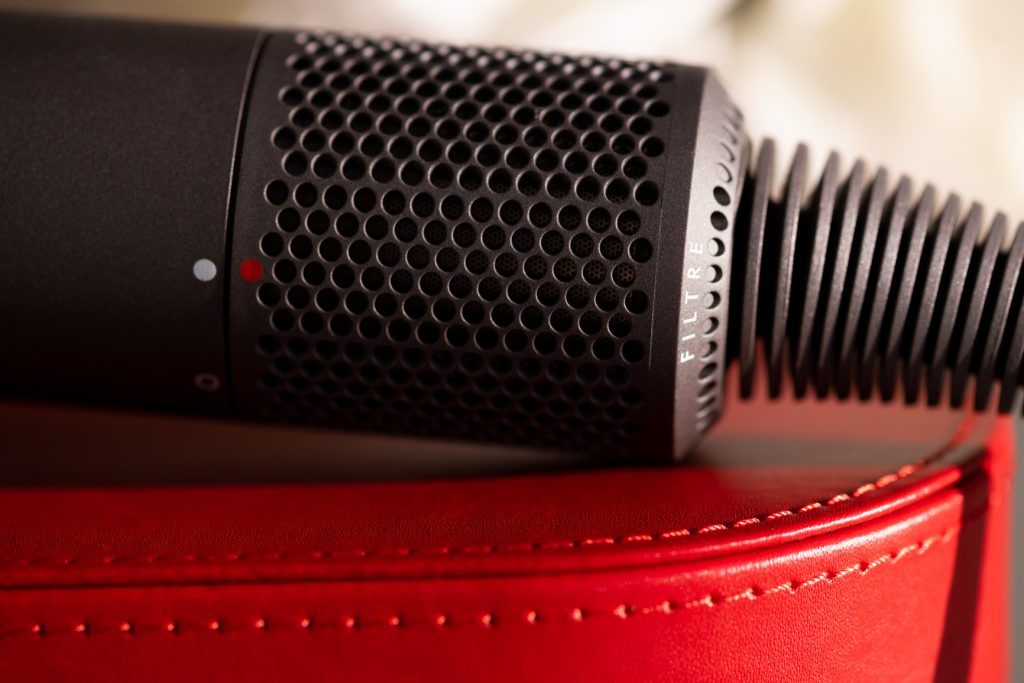 How To Use
An important tip: when using your Dyson Supersonic, make sure to always use a mat that comes in a box. Because of the re-engineered balance, the tool may slip from most of the surfaces, so make sure you put it on the included non-slip mat.
-Dries hair gently with smooth, wide airflow, allowing you to dry and style at the same time. This can be used to rough up dry hair.
-Attach the nozzle vertically, which will gently move the hair from side-to-side, helping lift the hair. Think of this as fanning your hair with the nozzle standing upright.
-To finish your style, rotate the nozzle to point air flow down (switch to horizontal) the hair shaft, using your fingers or a brush to guide it.
-Consider switching to a lower heat setting to avoid over-drying the hair.
This is my favorite styling nozzle, as I always rough dry my hair, focusing at the roots for volume.
–High-velocity, focused air that lets you style one section at a time–without worrying about disturbing the rest.
-Rotate the styling concentrator to match the direction you're styling in.
-Use a round brush to guide your hair and create your style.
My husband uses this nozzle to part his hair without any additional tools. This is also a nozzle I use if I blow dry with a round brush.
–Engineered to disperse air evenly around each of your curls. Simulates natural drying to help reduce frizz and improve definition.
-To start, don't comb or brush your hair once washed; you don't want to interrupt your hair's natural curl. Tip: comb it out while you condition and you should be good to go.
-Gather your hair in the diffuser, starting at the tips.
-Very gently push the hair upwards.
-The trick is to move your natural curls as little as possible, so try not to brush or touch your hair and stick to the lowest airflow setting.
How to Clean the Filter
Unscrew the filter and slide it down the cord. Wipe the filter with a soft dry cloth. Once cleaned, slide the filter back and lock it in place.
Now, as we talked about all the features of the Dyson Supersonic, here is what comes with your hairdryer. (US)
What's in the Box?
All Dyson Supersonic hairdryers (US) come with the following items inside:
– Dyson Supersonic
– Smoothing nozzle
– Styling concentrator
– Diffuser
– Non-slip mat
– Storage hanger
– 9 ft cord
– User Guide
Supersonic Hairdryer is available in 6 shades: Black/Purple, Iron/Fucsia, Iron/Red, White/Silver, Black/Nickel and limited-edition in 23.75 karat gold (Gold/Blue) with the retail price of $399.99.
The brand is running a promotion currently, so you can get a free accessory with a purchase.
Dyson Supersonic Professional Edition
The Professional edition of Dyson Supersonic™ hairdryer is slightly different from a regular Supersonic hairdryer. While most of the specs remain the same, it has a longer 11-foot cord (3.3 m) versus 9-foot, an improved opening filter, a brush for the filter and a Professional concentrator attachment that is wider and thinner for more precision.
Dyson Supersonic™ hairdryer Professional edition is available only in one shade for a retail price of $449.99. If you are a professional stylist or salon owner, you can qualify for an exclusive stylist price. Your license verification might be required upon request.
Warranty
Dyson Supersonic Hairdryer comes with a free two-year parts and labor warranty when you register your Supersonic on the Dyson website. As I mentioned earlier, Dyson has very good customer service, which is very important for such an expensive product.
The Presentation Case
The Dyson Presentation Case is available in a variety of shades, including pale rose, tan, gold, and gesso red and red. You could also find cases in platinum, black and blue shades.
I've got a presentation leather case in red finish. The case, developed by James Dyson, is very nicely built, with all the stitches in place and no glue residues. It is cushioned with soft fabric inside and is quite sturdy in design. The case is secured by a magnetic clasp. The firm clasp and its rounded design along with the solid construction make it a perfect travel case.
I don't store my Dyson Supersonic in it, because I use my hairdryer ever 2-3 days, and my husband uses it every day. Instead, I use a mat while I'm styling my hair and The Dyson Supersonic Stand to store the tool when not in use.
The retail price for the case is $59.99.

The Stand
A sleek design of Dyson Supersonic Stand speaks for itself. It is durable, made of steel design is quite functional: you can easily store 3 different attachments and the hairdryer on the stand.
The stand is quite heavy and has a nice sticking bottom that won't slip on even the smoothest surfaces, including marble and glass. If you need additional security for the stand, you can attach it to the surface with the screws provided.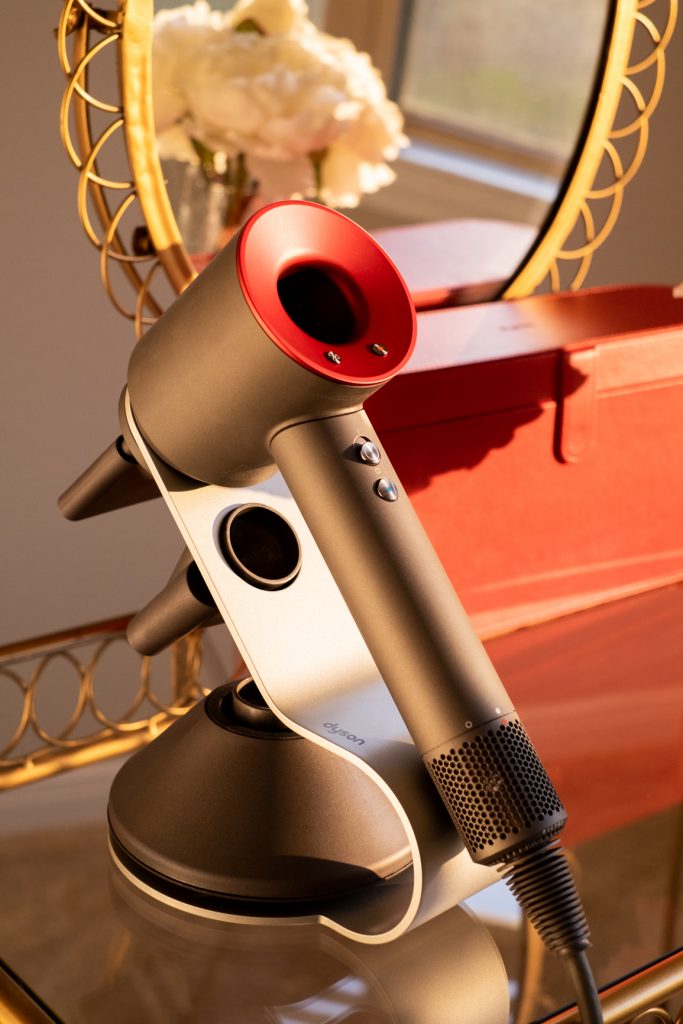 The retail price for the stand is $59.99.
If you have to choose between accessories and you don't plan to travel with your hairdryer, consider the stand as I find it more functional compared to the case.
Final Thoughts: is Dyson Supersonic Hair Dryer really worth the price tag?
After using this tool for 1 year I can definitely say that it is worth every single penny spent. A year ago, I had issues with damaged hair, split ends and breakage. Even though I don't use hot tools like curling irons that often, I don't air-dry my hair either because it takes forever to get them to a decent dry level. Just for the record, I blow dry my hair every 2-3 days.
With that being said, I'm comparing my hair to what I had before I started using Dyson Supersonic. It's been over 1 year since I last cut my hair, and as I'm growing it out, I literally don't see any split ends that were haunting me before. For sure, I use heat protectants every time I dry my hair, but the difference is really obvious.
I still have some flyaways because of the baby hair, but the frizz is not that extreme as it was before. Every time I see my hair in the mirror, they look shinier and smoother than ever before.
Many reviewers compare Dyson Supersonic to T3 hairdryers. Unfortunately, I never had a chance to try T3 hairdryers to compare them to Dyson, but I definitely like ergonomics and the design of Supersonic hairdryer. The rebalanced handle for me is easier to use compared to a classic blow dryer where all of the weight is in the tool's head.
Taking above into consideration, Sun Kissed Blush is awarding Dyson Supersonic Hair Dryer with the #SunKissedBlush_Approved award, adding this amazing tool to 2020 collection and recommends this blow dryer to their readers.
dyson
hair tool
Sun Kissed Blush Approved