For the June beauty box, Allure partnered with Kat Von D Beauty to create a beauty box together. I've already shared before how much I like Kat Von D eyeliner, so I was happy to get a whole box with different goodies from this brand.
The box consists of five products, four from Kat Von D and one from Ole Henriksen (I'm a little puzzled how the scrub from Ole Henriksen ended up in this collection though).
Let's go through each and every product in the box:
Kat Von D Beauty
As I said before, my love for Kat Von D beauty starts with the Tattoo Liner. If I need to elaborate more on this subject, I'd mention the quality of the products that I've tried so far and its ingredients along with the beautiful floral design of the packaging.
Tattoo Eyeliner
mini ($20 for full-size, Buy Now)
The liner in Black Trooper (previously Trooper) is a highly pigmented liquid eyeliner with a comfortable tip. You can draw a line with this liner as thin or thick as you like. It dries pretty well and stays well all day thanks to its waterproof formula. The liner is really easy to work with since if something goes wrong with your line, you can easily touch it up with Q-tip and micellar water. This eyeliner is an absolute must-have for beginners and pros.
Everlasting Lip liner
Full-size ($19, Buy Now)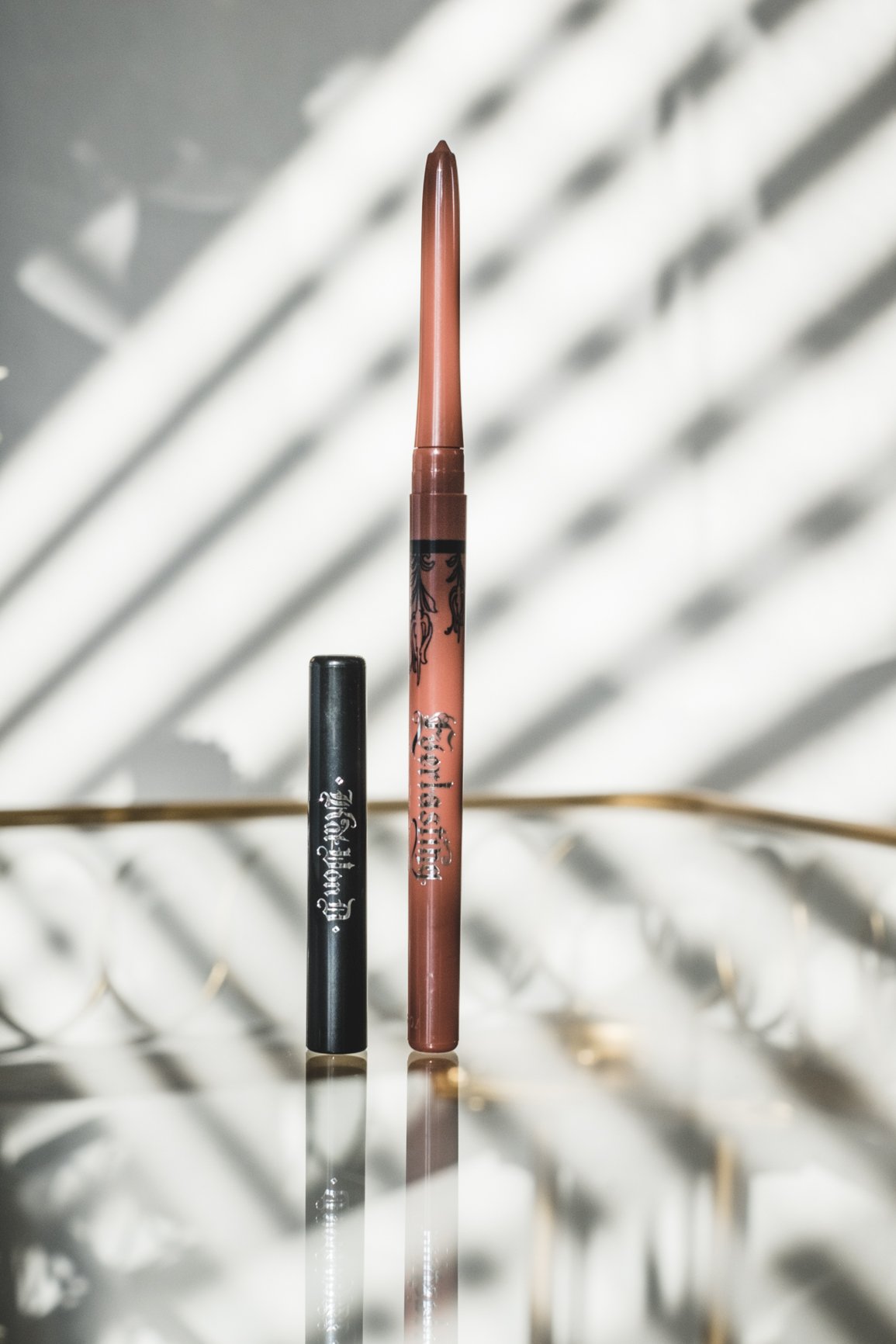 This automatic lip crayon is now one of my favorite products. The product is so creamy that it covers the lips pretty well and even can be worn alone as if it's a matte lipstick. It also stays pretty well, however not as good as those from Pat McGrath Labs. The last ones are almost impossible to take off.
Lolita shade is a brown nude shade also described as "chestnut rose" with a satin-matte finish. It is not really my type of color, but it can be worn under any nude shade.
Since the quality of the lip liners is so good, I'm definitely going to check other shades as well.
Studded Kiss Creme Lipstick
mini ($19 for full-size, Buy Now)
I was so obsessed with the studded packaging when I've just received the box! This is a satin-matte finish lipstick with a nice creamy formula that smells like vanilla candy. I also like the shade of the lipstick – it's more on a red brick side when compared to the brown Lolita lip liner and warms up my complexion a little bit.
From left to right: Lolita alone; Lolita + Double Dare; Double Dare alone
The formula glides on pretty smooth and doesn't settle in lines. Moreover, the tip of the lipstick is very comfortable to put the product on my lips from the bullet without using a lip brush. Plus, it makes my teeth look a bit whiter which is another good thing to consider.
Here is the lip products in similar shades (from left to right):
Travel Mirror
Full-size ($18)
This is a very extraordinary travel mirror I've ever had! I've already had the same mirror – I've got it on my points at Sephora in last December.
The design of the mirror is inspired by wax seal used for centuries in letters writing. Interestingly, but this design also makes it easier to hold the mirror compared to a regular round one. It can easily fit in your purse and looks really chic to use in public.
Since I got the same identical one, I decided to do my first giveaway! Join me on Instagram on July 25th to take part in this giveaway!
Ole Henriksen
Transforming Walnut Scrub
Full-size ($28.00, Buy Now)
I'm still surprised by this particular full-size product in this box. This is my second time I'm trying this scrub – my first impression was not really exciting because of my concern about how big the particles of the scrub are.
There is an assumption that bigger particles can be damaging for your skin, so you need to be gentle when using this type of scrubs on your face. After giving this scrub a second chance this time ( and using it gently on wet skin) I really can tell how smoother and softer the skin feels right after. However, I still feel concerned about the particles not being fine enough.
The formula is infused with walnut powder, ginseng, and chamomile extracts. This product does not contain parabens, sulfates, or phthalates and can be used unto 3 times per week.
About Allure Beauty Box
The total value of the June Box: $70
I'm really loving these Allure beauty boxes, and I've already shared my insights about this subscription service here. If you like exploring more of beauty products every month, I can definitely recommend it to you. Signing up is easy and as a new subscriber, you'll get a mystery gift in your first box! Use this link here to sign up.
What is your favorite product from Kat Von D Beauty? Let me know in the comments down below!
allure beauty box
kat von d
ole henriksen