On Saturday, January 25th, Sephora at Houston Galleria hosted a Take a Banana Break with Glow Recipe Masterclass with Glow Recipe co-founder Christine Chang. In her short and sweet stand up class, Christine talked about Korean-inspired skincare, sharing tips and tricks on how to up your skincare game with just a few adjustments to your routine.
1. Take time to cleanse your skin
Every skincare routine in every culture starts with cleansing. Whether you are a fan of double-cleansing or use just one cleanser, make sure you cleanse for at least 60 seconds. If you are using a foaming cleanser, like Glow Recipe Blueberry Bounce Cleanser, lather it first in your palms before applying to your face. This way you will activate the ingredients in the cleanser to maximize the efficiency of your cleanser. For best results, start with the oiliest parts of your face (T-zone, chin) and work the foam in a circular motion for a full minute.
Even though cleanser is a wash-off type of product, it is recommended to opt for cleansers without such harsh ingredients as SLS, since you keep it on your face for a while.
2. #DitchTheTowel
While we always consider toning the skin as the next step after cleansing, Christine highlighted that drying is always disregarded, but it is something we should really pay attention to.
Christine advised ditching the towels from your routine. The reason why towels are not the best method to dry your clean face is that they are usually located in close proximity to the toilet. Same as with your toothbrush, it is best to keep towels away from the flushing toilet to avoid contamination that in turn can cause breakout on your freshly cleansed bare skin.
Instead of using a towel, Christine recommended tapping the skin for 10 seconds until the skin absorbs the excess while remaining damp.
3. Don't wait between steps
Christine analogized the skin to a sponge. If you compare a wet sponge to dry sponge in your kitchen sink, you will find wet one being more effective in absorbing the soap. The same happens to your skin, with damp skin promoting better absorption of the nutrients and active ingredients from the following skincare steps.
Moreover, Christine highlighted that in the past, toners known in the western cultures used to contain alcohol and therefore considered as a second cleansing step. With a strong eastern influence on the beauty industry, toners today are free of alcohol, therefore, more gentle on your skin. When choosing your toner, opt for the one with bouncy formula and layer it in several thin layers.
Why do you want several thin layers in your skincare? Same as with warm clothing, several thin layers will do a better job in keeping you warm compared to just one chunky sweater. Glow Recipe Watermelon Glow Ultra-Fine Mist, as known from its name, was designed with a super fine spray, specifically for this purpose.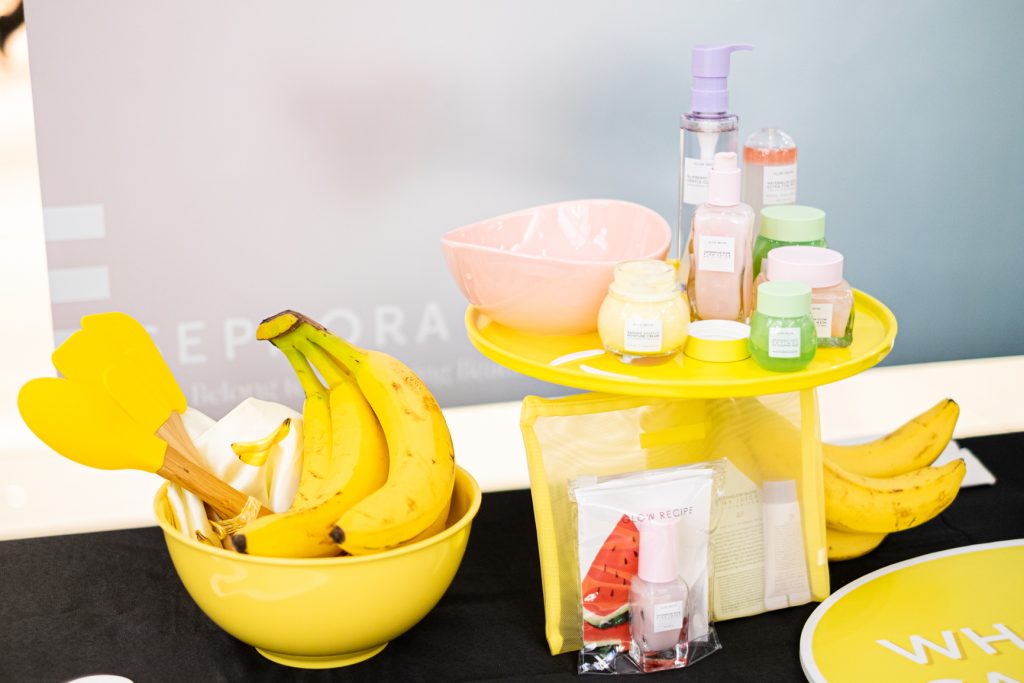 4. What is the Right Time for Your Eye Cream?
In this frequently asked question, Christine cut right to the chase: use your eye cream before serums.
Christine explained, that serums contain active ingredients for different skincare concerns, and therefore are not designed for the delicate under-eye area.
In addition to this, she reminds us to always opt for ophthalmologist-tested eye creams to avoid irritation.
Glow Recipe co-founder also spoke about their Retinol Avocado Eye Sleeping Mask, in particular, its active ingredient – encapsulated retinol that is different from the traditional free retinol. The new encapsulation technology lets tiny microdoses of retinol be coated with more soothing ingredients and the active retinol is being released through its shell overtime during the night to deliver its potency little by little to the deeper layers of the skin. This type of retinol is said to be tolerated better by sensitive skin.
5. Serums, Oils, Moisturizers, and Face Masks
Once the delicate under-eye area is protected with an eye cream or eye mask, it is time for the fun part. Christine highlighted that the main difference between serums and moisturizers is that serums tackle primary skincare concerns, while moisturizers seal all of the potent layers of previously applied products. In the layering order, serums come first, followed by moisturizers, then oils. Leave-on face masks are usually used after or in place of your moisturizer.
Serums
Since brightening is one of the main concerns in South Korea, Glow Recipe's first serum – Pineapple + C Bright Serum targets discolorations, dryness, and redness and helps to achieve the glass skin effect. Vitamin C is a very unstable and foul-smelling ingredient, so the serum was recently reformulated to bring the scent down while keeping all the initial active ingredients in the formula.
Moisturizers
The texture of moisturizers is very important and the choice of a moisturizer will depend on your skin type. While Glow Recipe's Watermelon Pink Juice Oil-Free Moisturizer is great for oily prone and combination skin, it might not be hydrating enough for dry skin and is recommended to be used as a serum instead. Moreover, with so many active ingredients in skincare today, starting from the cleanser to toner and serums, it is important to sooth down the skin. With this in mind, Glow Recipe created Banana Soufflé Moisture Cream, an emollient face cream with such calming ingredients as sweet soufflé of banana, magnesium, turmeric, and cica, to soothe, hydrate and even out the skin tone. Banana Soufflé that can be used day or night, suitable for all skin types, but mainly targets dryness and redness.
6. But first, sunscreen
Your day skincare routine doesn't stop on your moisturizer. Consider sunscreen as the last and yet important step in your daily skincare routine, regardless of the weather outside. Christine reminded, that sun exposure is responsible for 90% of skin aging, so the earlier you start protecting your skin, the longer it will preserve its youthfulness and glow.
Bonus: Glow Recipe New Watermelon Glow Lip Pop
Christine introduced Watermelon Glow Lip Pop to her attendees – the first lip product from the brand. This is a non-rinse three-in-one lip product that works as a scrub, lip balm, and a tint, that adapts to the pH level of your lips, creating a unique shade, from subtle pink nude to bright poppy. Watermelon Glow Lip Pop was available for purchase at Sephora Houston Galleria in a limited quantity before the official launch.
Finally, at the end of the masterclass, each of the attendees could get a quick facial with Glow Recipe products, and each of them received a yellow Glow Recipe mesh pouch with three samples: Watermelon Pink Juice, Blueberry Bounce Cleanser and Banana Souffle.
Have you tried anything from Glow Recipe? Let me know in the comments down below!
glow recipe
masterclass