Brow products come in a variety of forms. One of the most popular creamy brow product today is Anastasia Beverly Hills DipBrow Pomade.
First of all, it is waterproof, suitable for oily skin and can stand humidity really well. Smudge-free and, at the same time, creamy formula will help you define your brows the way you want them to be from a messy natural look to polished Instagram brows. The formula dries pretty fast and stays on all day.
Secondly, you can choose from 11 shades – no other brand on the market can offer such a shade-inclusive brow product line with natural shades in mind. They are highly-pigmented and matte.
ABH Dipbrow Pomade Waterproof Brow Color ($18, Buy Now)
Nevertheless, this relatively vast range of shades can pose challenges in picking the right color. Here is the quick guide on how to find a perfect color match for your ideal brows.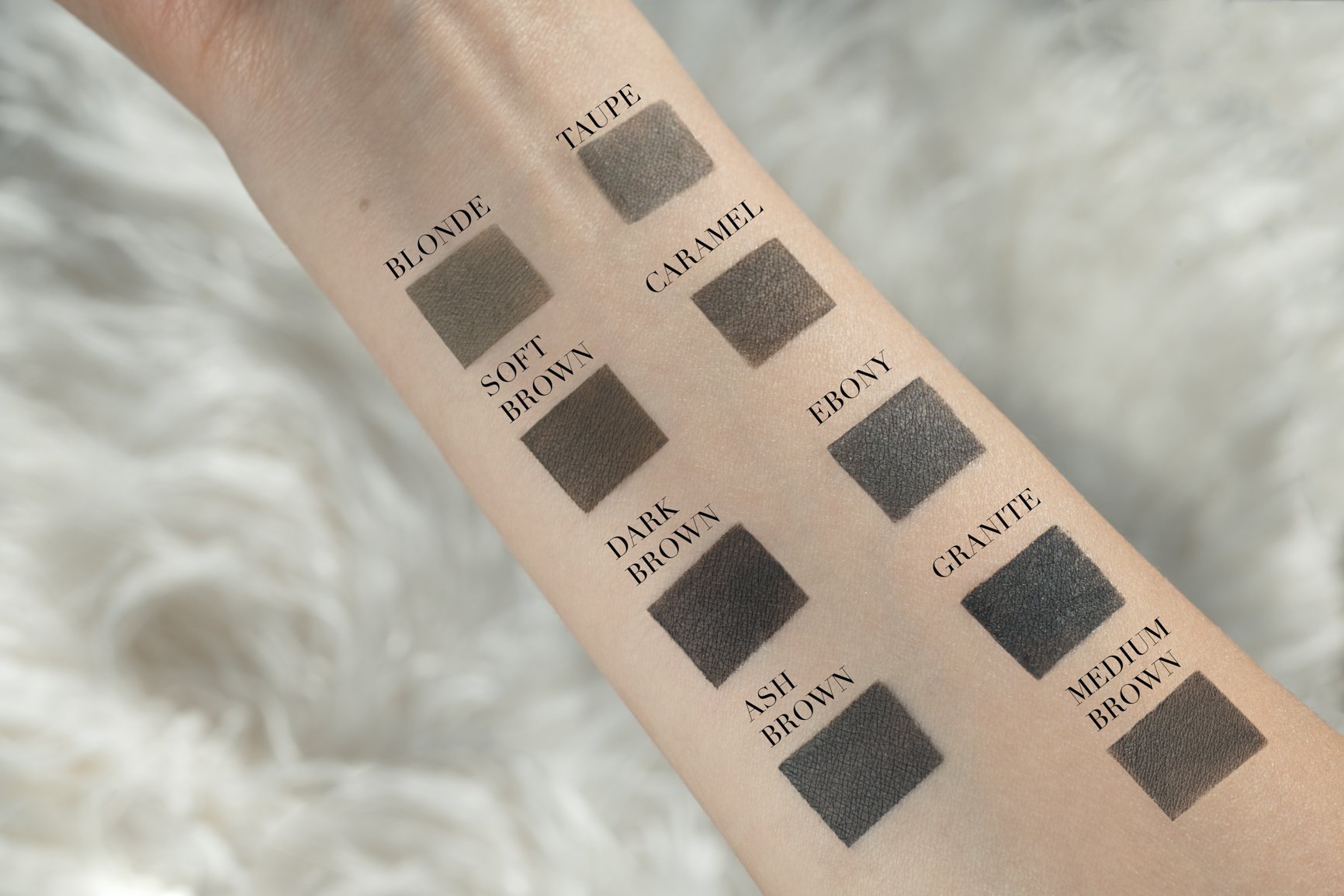 In general, we can discuss the shades from the perspective of undertones: WARM (RED) and COOL (ASHY). The right shade and undertone mostly depend on your complexion, including your hair and skin color.
To underpin my swatches with more details, here is the guide that Anastasia Beverly Hills recommends when finding your perfect match. I compiled them in this table so that it is easy to identify the right shade based on the product color, its undertone, hair and skin tone.
SHADE
UNDERTONES
HAIR TONE
SKIN TONE
BLONDE
WARM
Golden Blonde to Dark Blond with Warm Tones
Light to Medium
TAUPE  

(ASH BLONDE)

COOL
Light to Dark Blonde with Cool/Ashy Tones
Light to Medium
MEDIUM BROWN

(MEDIUM ASH)

COOL
Light to Medium Brown with Cool/Ashy Tones
Light to Medium
MEDIUM BROWN

(MEDIUM ASH)

COOL
Silver, Platinum, Gray, Pastel Shades
Light to Medium
SOFT BROWN
WARM
Medium Brown with Warm Highlights
Light to Medium
CARAMEL
WARM
Light Brown with Golden/Red Undertones
Light to Medium
AUBURN
WARM
Strawberry Blond to Auburn and Burgundy
Light to Medium
DARK BROWN

(BRUNETTE)

WARM
Medium to Dark with Warm Tones
Light to Deep
CHOCOLATE
WARM
Dark Brown with Warm Tones
Light to Medium; Adds warmth to Deep Skin with Cool Tones
ASH BROWN
COOL
Brown to Black with Cool Tones
Light to Deep
EBONY
WARM
Dark Brown to Black with Warm Tones
Medium to Deep
GRANITE
COOL
Very Dark Brown to Black with Cool/Ashy Undertones
Light to Deep
Here is another comprehensive diagram that matches each particular shade of the Dipbrow pomade to a different hair color.
My perfect match is Medium Brown, since I have light/ light-to-medium complexion and Medium Brown hair with ashy undertones. To avoid complete ashiness on pictures, I also finish my brows with Tinted Brow Gel in Espresso, because it has more red undertones. I've learnt this trick from Anastasia herself during her Master Class in Houston. By the way, there are a lot of other useful tips that you want to consider in your brow game – and you can learn them in this post!
What is your go-to brow product? Let me know in the comments down below!
anastasia beverly hills
brow product