There is nothing that can undermine the bold statement of the red lipstick, and this year Pantone is taking red on a new level nominating Viva Magenta as a color of the Year 2023.
Yes you read this right – Pantone defines Viva Magenta as a shade of red, because in color theory red is one of the primary colors along with blue and yellow.
Red is all about power and passion, and Viva Magenta is intentionally chosen to empower all as we balance digital and physical lives. It is a fun, joyful and yet balanced in temperature color derived from nature that can be found all around. Besides this crimson red shade to be widely spread, it is so easy to incorporate this lively color into our lives to empower and be empowered.
Viva Magenta is such an inclusive color – thanks to balanced blues and yellows in it, that works on all skin tones and as a lip shade it can be found in a different forms. Just for the sake of experiment, I wanted to show you how similar shades of red and magenta compare to each other.
I didn't have many suitable matches for Viva Magenta in my lipstick collection, so I decided to go on a quest to find the best match for your pouts so that you have options. Below is what I found and swatched for you to see all these shades side by side.
Best Lip Shade Matches for Pantone Color of the Year 2023 – Viva Magenta
Fashion Fair Iconic Lipstick in Magenta Mist. At first, I thought this lipstick has a more burgundy undertone, but when compared to the color chart above, this is a true Viva Magenta shade. The lipstick has a satin finish and is pretty pigmented, so that you can achieve a high color payout with just one swipe.
Nars Lipstick in Schiap – is a vivid pink matte shade, more on the fuchsia side.
Milk Makeup Lip + Cheek Cream Blush Stick in shade Flip is defined as a true red, but to my eye, it is more on the carmine side. The stick can be applied to the whole face, with a creamy texture and buildable pigment.
Makeup Forever Rouge Artist Lipstick in shade 202 is a perfect Viva Magenta lipstick. The lipstick has a smoothing longwear formula, high pigment, and satin finish.
Patrick Ta Major Beauty Headlines – Matte Suede Lipstick in She is hard to Get – Patrick Ta manifested the situation into existence: this shade is indeed hard to get in stores. The lipstick also has a matching lip liner which I find very important to have with such bold colors. The lipstick has a matte finish, and formula is very creamy and pigment-rich.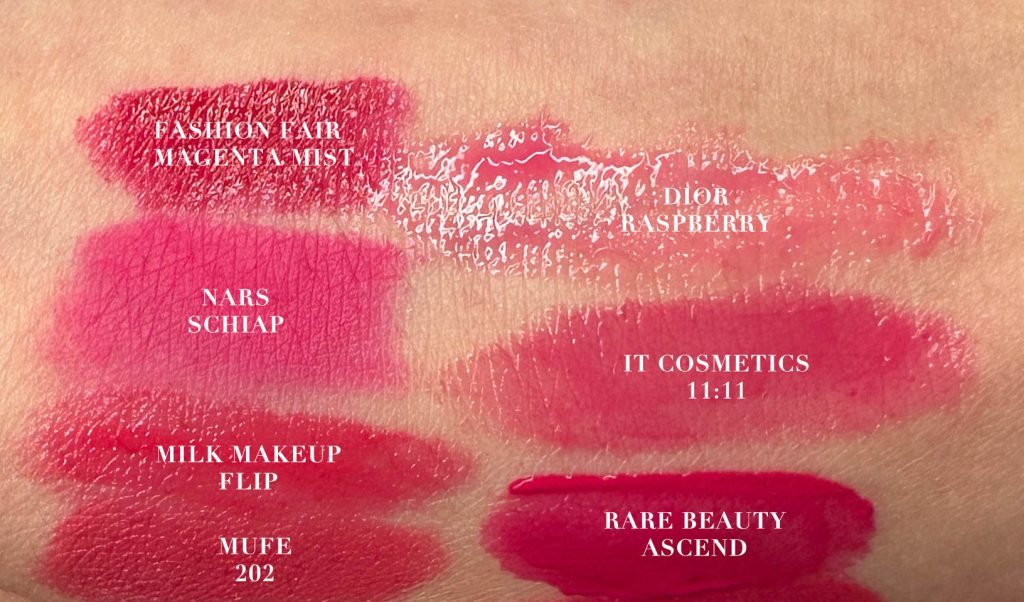 Gucci Velvet Matte Lipstick in 404 Cassie Magenta is a better match as it is borderline between Carmine and Vivian Magenta, compared to Gucci Velvet Matte Lipstick in 403 Love before breakfast, described as a cranberry pink, another matte shade from the line, which is closer to carmine shade in my opinion.
Gucci also shades 403 Love Before Breakfast in the Long Lasting Satin Lipstick collection.
Givenchy Le Rouge Deep Velvet Matte Lipstick Shade 25 Fuchsia Vibrant is another excellent match for the Viva Magenta shade. It is a very soft, creamy, pigmented lipstick encased in pretty red velvet packaging.
Charlotte Tilbury Hot Lips Lipstick 2 in Patsy Red is a beautiful crimson red lipstick, created in homage to Charlotte's mother Patsy Tilbury. The formula is infused with Charlotte Tilbury lipstick tree extract, discussed in more detail in the Pillow Talk Lipstick review.
Tom Ford Lip Color Lipstick in 75 Jasmine Rouge is a true Carmine shade. The creamy formula and pigment are mind-blowing.
PAT McGRATH LABS MatteTrance™ Lipstick in Full Panic 005 is a beautiful shade borderline between Carmine and Viva Magenta. I love MatteTrance lipsticks a lot, and I've described the formula in a separate post.
Laura Mercier Petal Soft Lipstick Crayon in 324 Louise described as bright yellow pink, is a buildable hydrating lip crayon with a matte finish. I only swiped it once for a wash of color, and this shade is a borderline between Viva Magenta and Raspberry.
Laura Mercier Rouge Essentiel Silky Cream Lipstick in Rose VIF is another gorgeous Viva Magenta shade. Initially, I was debating between Fuchsia Intense and Rose VIF. When compared against the color chart, Fuchsia Intense is a raspberry shade, and Rose VIF is a better match to the Pantone color of 2023.
Dior Rouge Dior Forever Liquid Transfer-Proof Lipstick in 760 Forever Glam, described as fuchsia, is another amazing shade between Viva Magenta and Carmine. I love the matte, full coverage, smudge-proof formula of this lipstick.
Huda Beauty Power Bullet Matte Lipstick Bachelorette is a borderline between carmine and fuchsia. 
Rare Beauty by Selena Gomez Lip Soufflé Matte Cream Lipstick in Ascend is another great Viva Magenta shade. Lip Souffle lipsticks are so comfortable on my lips, and I have reviewed one in this video review. 
IT Cosmetics Pillow Lips Solid Serum Lip Gloss in the shade 11:11 is a hydrating, non-sticky gloss with a sheer color close to Viva Magenta.
Dior Addict Lip Glow in 007 Raspberry is one of my favorite lip balms. Out of all the lip products mentioned in this post this one is the sheerest. It adds a nice wash of color closer to Raspberry. The lip balm adapts to the ph level of the lips, so you can get a custom lip shade that might look slightly different from what you see on other people.
Do you see any of your favorites? Let me know in the comments down below!
lipgloss
lipstick
pantone